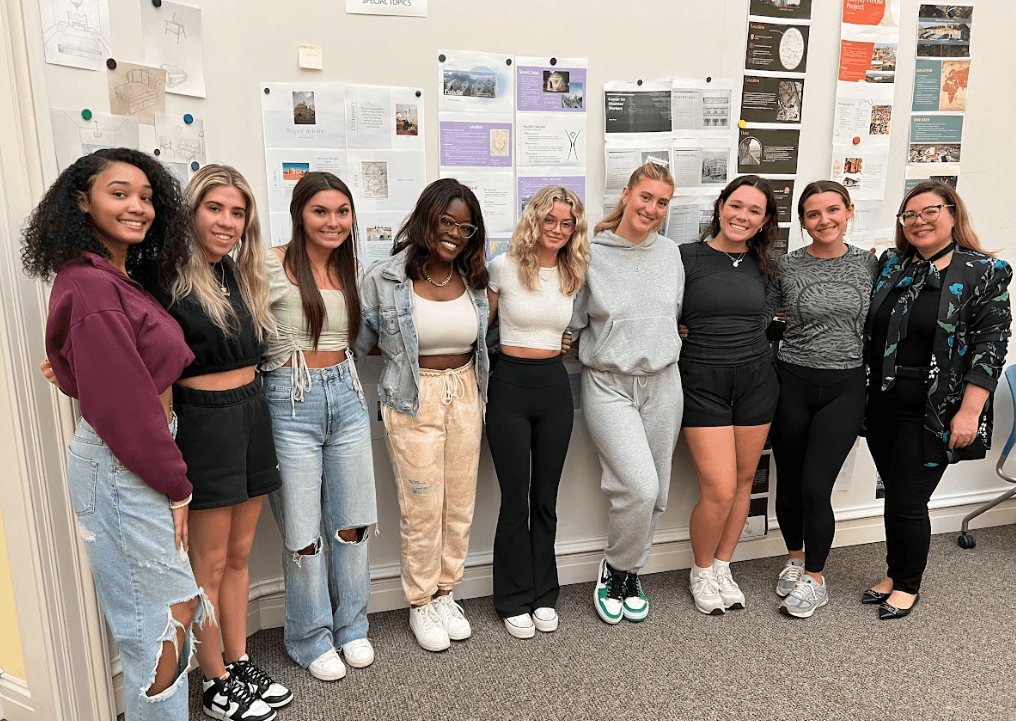 Supporting High Point University
We love being invited by High Point University to come into the classroom and share knowledge with students. Professor Gary Inman, Designer in Residence, and Assistant Professor of the Practice of Interior Design is one HPU professor who routinely develops programming with HPxD mind, bringing students to member showrooms and bringing industry experts into the classroom as well.
This past week HPxD consultant Serena Martin showed up at HPU as a guest speaker. She created presentations for fashion merchandising and interior design students that covered branding and marketing, the art of the resume, tips for landing your first job and navigating the design industry. Each class consisted of 15-25 students who are in the midst of their final projects, and looking to gain experience and insights from industry experts.
"I feel so honored to work with Professor Inman and to support the bright minds at HPU. I can't wait to see what these students do once they graduate and begin their careers in the design and fashion industries!" – Serena Martin
Professor Inman's Senior Interior Design Class covers in-depth study of the profession of Interior Design, including the current state of the profession, legislative issues, professional goals, legal responsibilities, ethical issues, and design contracts, (including contract administration and project management), and introduction to business practices and procedures in the field of interior design.
Spring Semester Guest speaker series included:
Kelli Ellis, Founder of "Design Camp" and "Design Mastermind"
Monika Nessbach, Owner and Principal, Design Bar
Christie Spangle, Principal and Partner, Barbour Spangle
Serena Martin, Founder & President, 24/7 Creative Agency
Professor Inman's Fashion Merchandise & Styling Branding Studio focuses on an in-depth analysis of multiple sectors of the global Luxury Market. This analysis includes looking at Fashion Design, Beauty Products, Architecture, Interior Design, Culinary Products, Showrooms/Retail Spaces, Travel and Hospitality Design, and Product Design segments.
Spring Semester Guest speaker series included:
Ashley Grigg, VP of Business Development, High Point Market Authority
David Blair, Welcome Ideas Workshop on Writing, ISFD (International Society of Furniture Designers).
Dawn Brinson, President, The Media Matters
Jane Dagmi, Managing Director of High Point x Design
Alexandra Thompson, VP Marketing & Sales, Thompson Traders
Serena Martin, Founder & President, 24/7 Creative Agency