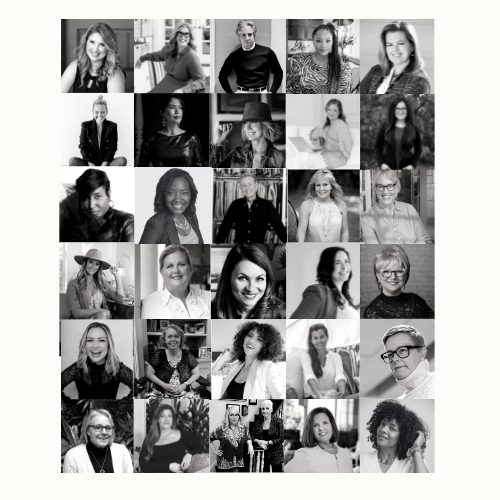 25 + Speakers announced for VRD Summit
When we put out a call for speakers in January, there were more than 80 people who raised their hands. We researched every person, looked at their websites and social, and Zoomed with many, and discovered an abundance of talent, personality, and business savvy in the short-term vacation rental world.
There will be over 25 speakers at the first Vacation Rental Design (VRD) Summit. They are interior designers, hosts, property managers, entrepreneurs, advocates, business strategists and real estate professionals.
Content will hone in on design as a differentiator in short-term rental success, the business of vacation rental design, the value designers bring to the table and opportunities for designers in this market. Panel topics include building your vacation rental design business, creating a sense of place, vacation rental pain points and solutions, photography for rentals, and kitchen and bath design for rentals. The latter will be moderated by Pamela McNally, Senior Vice President of Marketing and Digital for the National Kitchen & Bath Association (NKBA), who will also deliver a kitchen and bath trend report preceding the panel. 
There will also be a panel called "Designing Responsibly," which will be moderated by Alexa Nota, cofounder of the short-term rental education and community-building platform Rent Responsibly. Raising awareness on important related issues such as sustainability, safety, inclusivity, and accessibility, one of the panelists is Lorraine Woodward who started Becoming rentABLE, an accessible short-term rental listing platform dedicated to finding solutions for people with disabilities and the aging community. 
VRD Summit's current list of speakers includes: Tyann Marcink (Branson Family Retreats and Touch Stay), Tiffany Cassidy (Lagnappe Interiors), Tatianna Taylor-Tait (Tatianna Taylor-Tait Ltd.), Summer Loftin (Summer Loftin Antiques & Interior Design), Rina Norwood (House of Norwood and Rina Norwood Designs), Paula Oblen (Vacation Interiors and Hotelements by Paula Oblen), Ola Swarn (J'Adore Le Decor), Kellie Smith (Kellie Smith Design Studio and SmithHonig), Melanie Honig (SmithHonig), Margie Kaercher (Hearth & Honey Homes), Linda Holt (Linda Holt Creative), Julia Harmon (RealtorⓇ with Compass and Vacation Rental Designers), Jessica Duce (JDuce Design and Vacation Rental Designers), Ginger Curtis (Urbanology Designs and Urbanology Properties), Elizabeth Scruggs (Superior Construction & Design), Pamela McNally (SVP of Marketing and Digital for National Kitchen & Bath Association (NKBA), Joseph Szymczak (Slate Interior Design), Ellen Williams (Ellen Renee Photography), Marie Cloud and Carisha Swanson, (Indigo Pruitt Design), Tammy Nagem (High Point Market Authority), Jenna Gaidusek (Mydoma Studio), Lorraine Woodward (Becoming rentABLE) Ericka Saurit (Saurit Creative), Carisha Swanson, (House Beautiful), Diane Falvey (Furniture Lighting & Decor), and Alexa Nota (Rent Responsibly).
Solo presenters are  Jaye Anna Mize of Fashion Snoops, Joy Williams of Joyful Designs Studio, Leslie Carothers of Savour Partnership, Tobi Fairley of Tobi Fairley Design and Barclay Butera of Barclay Butera Interiors. Butera, who owns two luxury rental properties, will deliver the Summit keynote.
VRD Summit registration is open to architecture & design professionals as well as hospitality groups, developers, property managers, real estate agents, investors and the media.