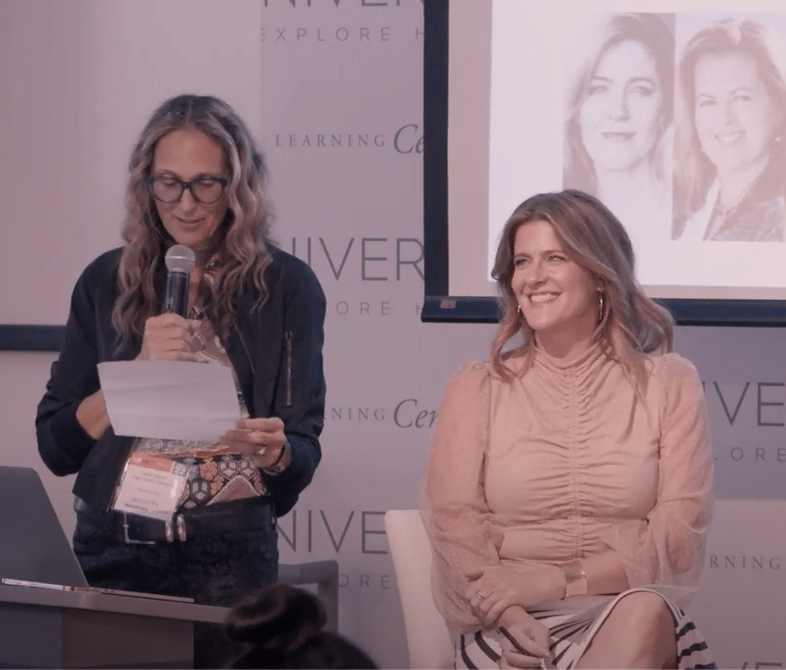 Super-Charge Your Business and Get Major Inspo at HPMKT
High Point Market is full up on education and we've identified 10 learning sessions hosted by our members or partners that are sure to have a positive impact on you and your business.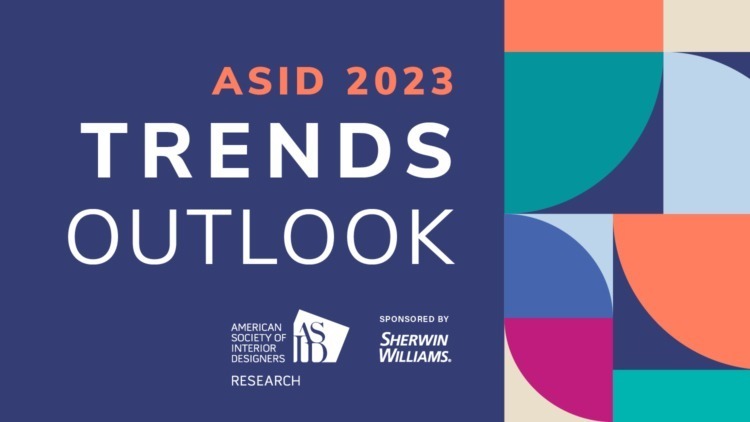 ASID State of the Industry Report
10am – 11am | Saturday, April 22 | Sherwin-Williams Seminar Room (SAMS T-1022)
In this panel discussion, the American Society of Interior Designers will bring together leading members of the interior design community to explore the latest trends in interior design, highlighting insights from ASID's 2023 Trends Report and the forthcoming 2023 State of Interior Design Report, both co-sponsored by Sherwin Williams. Hear from ASID CEO, Khoi Vo, and other experts on topics ranging from the impact of current demographic trends on design ethos, to economic shifts affecting the industry, to the growth in interior design employment and firms as well as interior design certifications and education. Presented by DesignOn HPMKT by IMC, in partnership with ASID & Sherwin-Williams. (1 CEU) Registration recommended. Speakers: Khoi Vo, Lily Brown, Amina Guyon, Marta Mitchell RSVP Required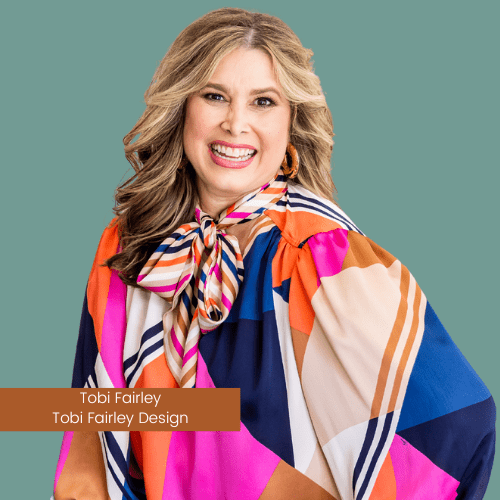 Let's Get Visible! Courses, Podcasts and Influencers for the Win – Panel discussion moderated by Tobi Fairley
3pm – 4:30pm | Saturday, April 22  | Antique and Design Center
316 W Commerce Ave. Market Square
Join Interior Designer and Business Coach Tobi Fairley as she moderates a panel of her DesignYou and Millionaire Mentorship students Marina Case, Principal Designer, The Red Shutters; Amber Guyton, Interior Designer + Home & Lifestyle Content Creator, Owner Blessed Little Bungalow; Kricia Palmer, Owner, House Calls for Physicians, all of whom are creating big success and profits by getting more visible in the online world.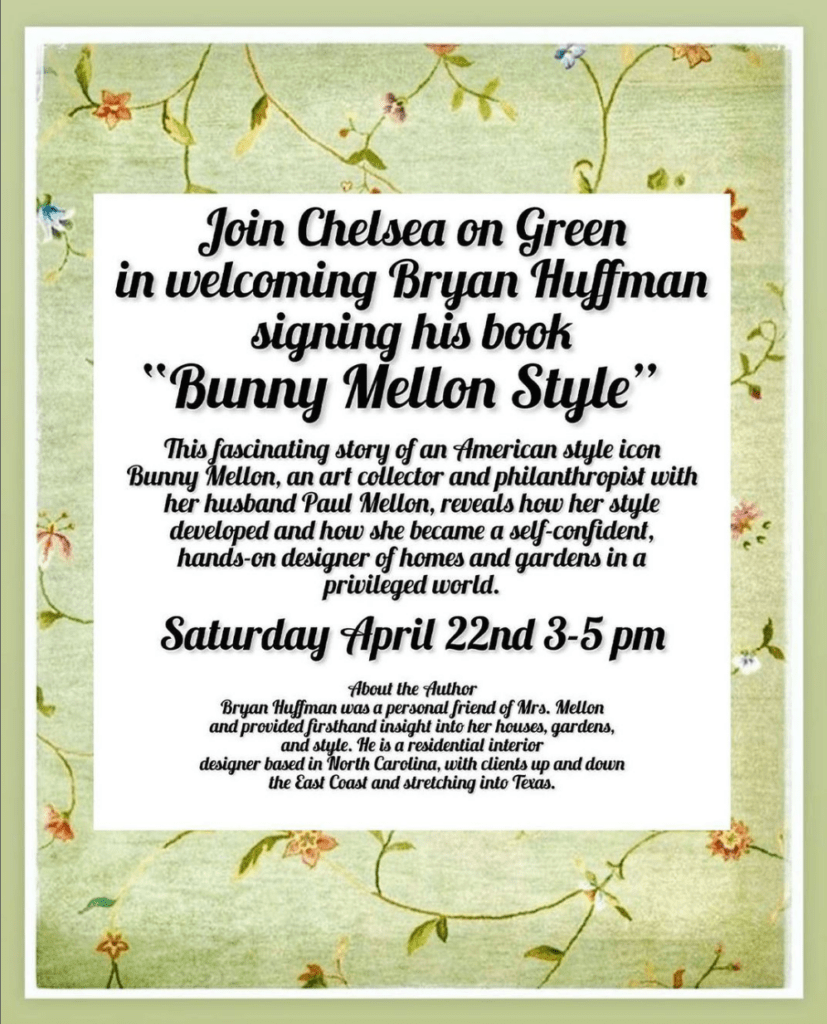 Book Signing Featuring Bryan Huffman and His Book, "Bunny Mellon Style"
3pm – 5pm | Saturday, April 22 | Chelsea on Green
515 West Green Drive Shuttle Stop: 11 (Green Line)
Bryan Huffman will be at Chelsea on Green for a book signing. His book, Bunny Mellon Style, is the intimate story of one of the most unintentionally influential women of twentieth-century design. Learn how her style developed, take a look inside the family homes she designed, get the flavor of her collaborations with French designers of fashion and jewelry, and begin to understand her vast and lasting influence on the world of design. Refreshments will be served.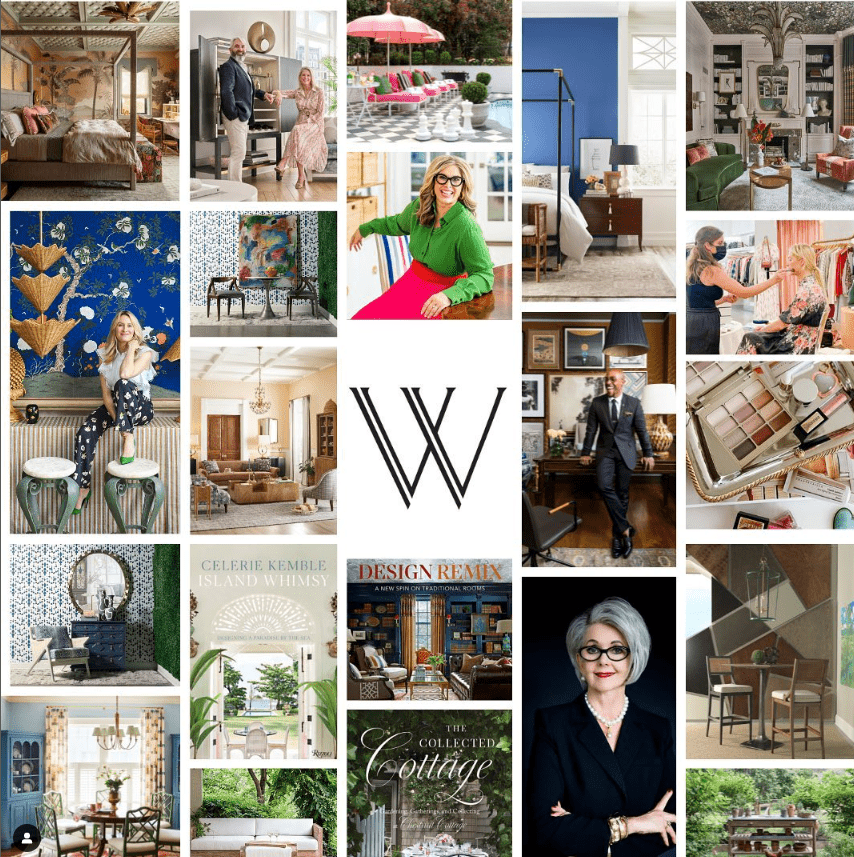 Coffee with Creatives: Panel Discussion on Design, Business, and Creating an Experience
9am – 10:30am | Sunday, April 23 | Woodbridge Furniture
200 Steele, Floor 3, 301 Shuttle Stop: 17 (Red Line)
Woodbridge will be hosting a panel discussion that covers design, creativity, and creating meaningful experiences. Panelists are Celerie Kemble, Corey Damen Jenkins Jennifer Mabley and Austin Handler. . We will be discussing building a brand and business, book writing and the publishing process, how to create meaningful experiences, and designing beautiful spaces. This panel will have 4-5 prepared questions for the panelists and then open to an audience Q&A. Breakfast refreshments provided and all panelists' books will be available for purchase and signing afterwards.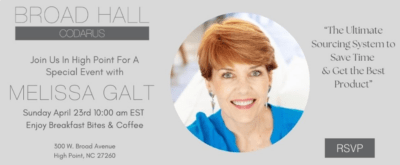 The Ultimate Sourcing System to Save Time & Get the Best Product
10am – 11am | Sunday, April 23 | CODARUS
Join designer business coach Melissa Galt to discover how to harness the pool of talent you already know to cut your sourcing time in half and get the products you truly want. She'll show how to build a sourcing team without hiring anyone, how to stop selling retail and get trade pricing, how leveraging your trade partners leads to more profitable projects and more. Breakfast bites and coffee served. Kindly RSVP.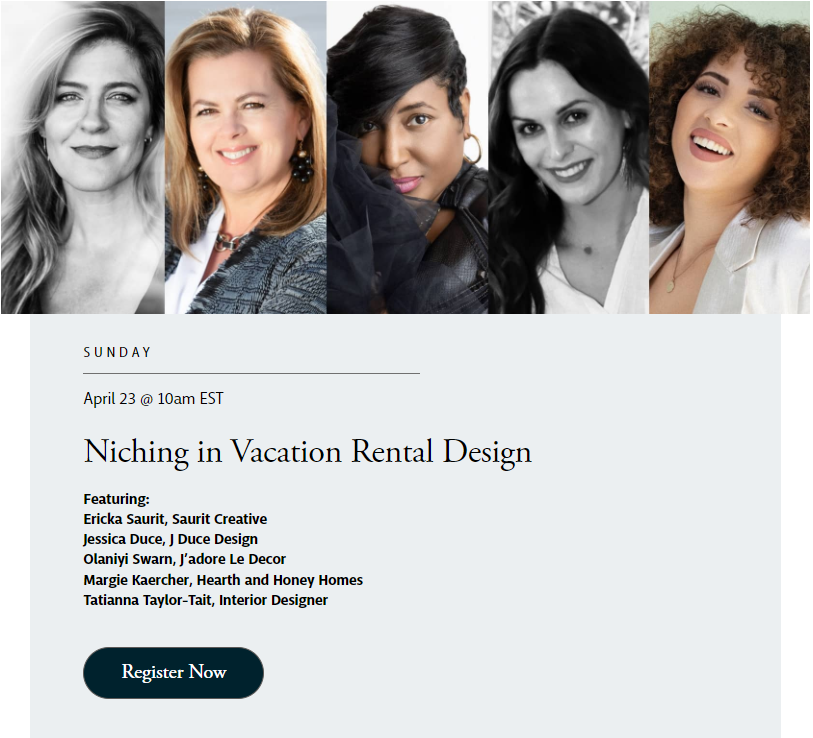 Niching in Vacation Rental Design
10am – 11am | Sunday, April 23 | Universal 
101 S Hamilton Street Shuttle Stop: 15 (Red Line)
Once you've declared your short-term rental design services or specialty, what does it take to build your brand, identify the ideal client, and get hired? Jessica Duce of JDuce Design and Vacation Rental Designers, Olaniyi Swarn, Margie Kaercher and Tatianna Taylor-Tait reveal what it takes to establish authority in this growing and fast-paced design space. Moderated by Ericka Saurit, Saurit Creative with introductions by Jane Dagmi, HPxD.  RSVP Required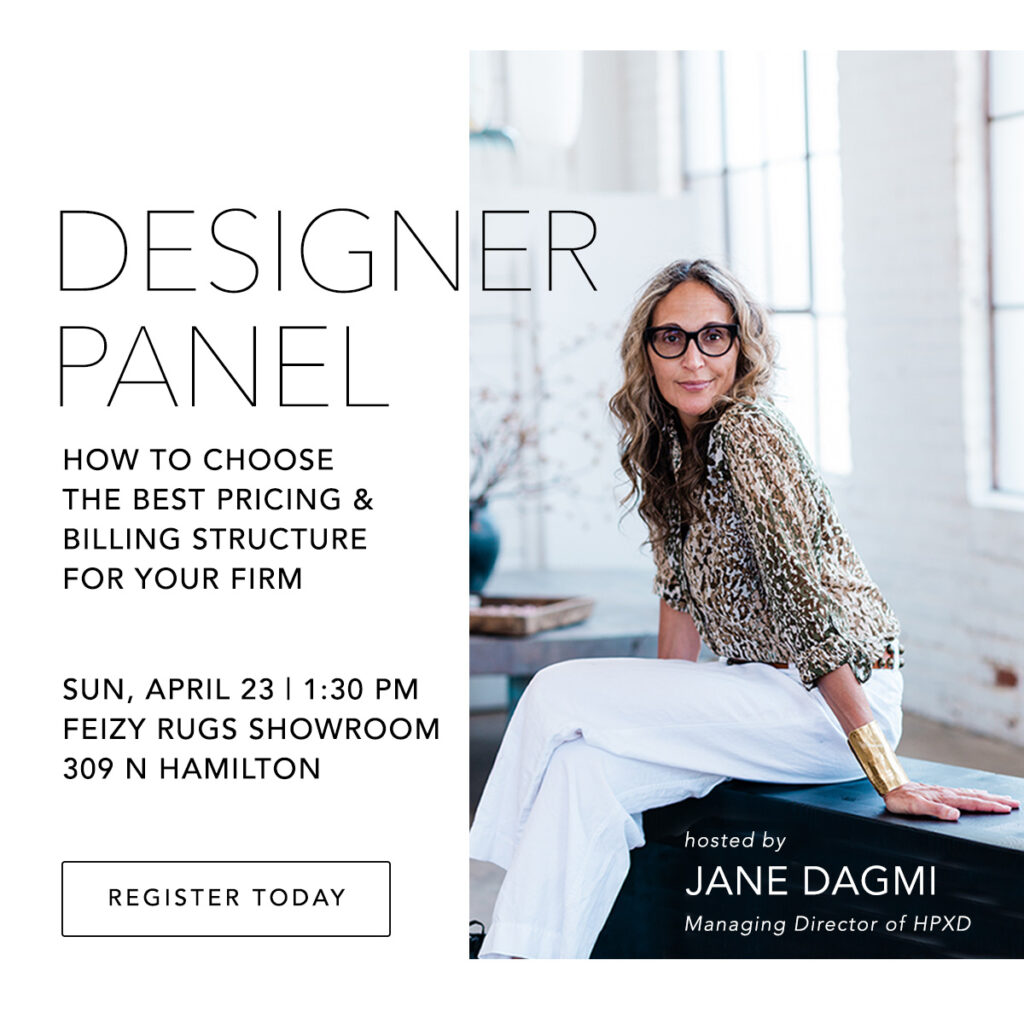 Choosing the Best Pricing and Billing Structure For Your Firm
1:30pm – 2:30pm | Sunday, April 23 | Feizy Rugs
209 N. Hamilton
Currently, there is much debate in the industry on the best pricing and billing structures that benefit both designers and clients. Should designers bill at a flat rate or hourly? What markup percentage is appropriate? During this panel discussion, successful interior designers and industry experts will discuss their current pricing and billing practices and the benefits and drawbacks of their chosen structure. Speakers: Roz Murphy, Roz Murphy Design, Meghan Basinger, Stevie Interiors, Ruth Ann Janson, The Dove Agency; Grayson Knight, Layered Dimensions Interior Design. Moderated by Jane Dagmi, HPxD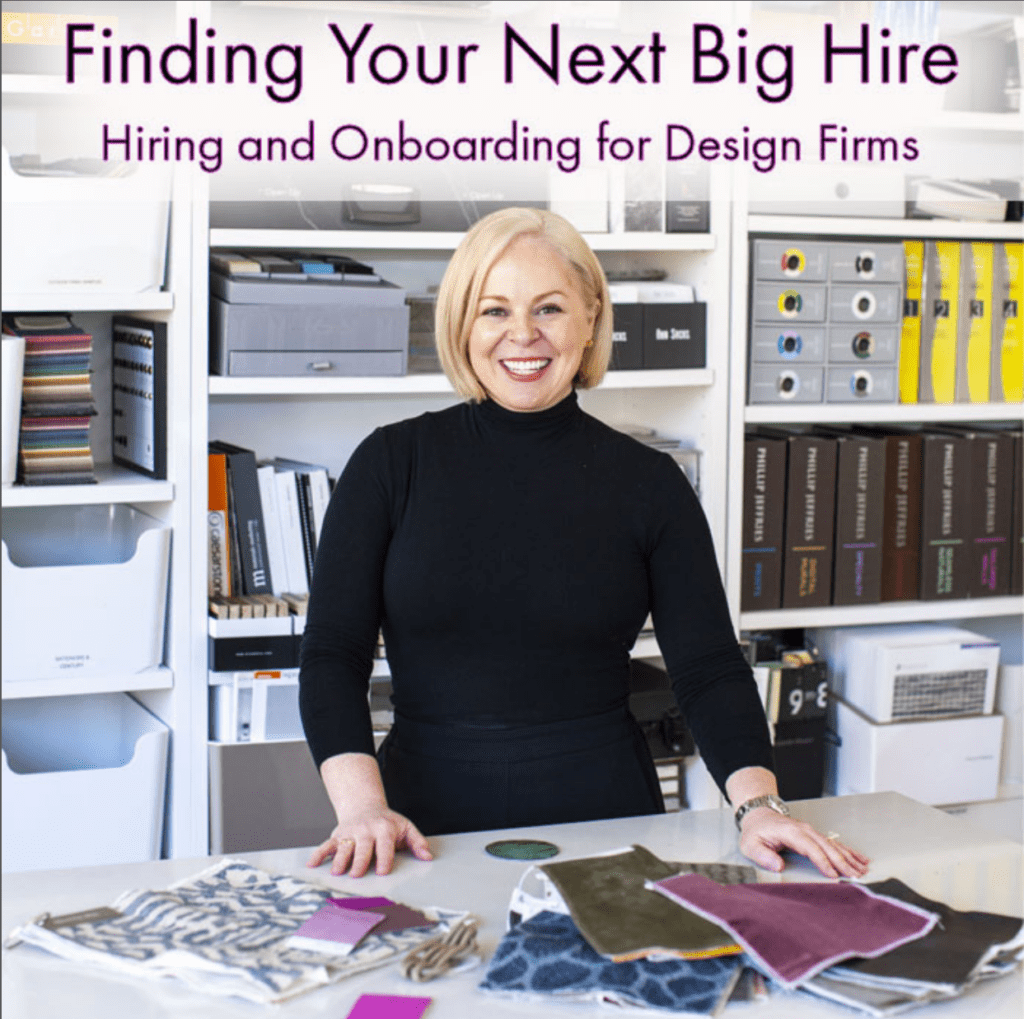 Finding Your Next Big Hire – Hiring and Onboarding for Design Firms
4pm – 5pm | Sunday, April 23 | Norwalk Furniture
IHFC, Main, Floor 1, M108 Shuttle Stop: 1 (Transportation Terminal)
Whether it's the second person on your team or the twenty-second, that next hire is crucial to your firm's success. In this seminar, award-winning interior designer, Laura Umansky, shares her secrets to building a team, and it all starts with that next hire. Laura will review her easy-to-use (and re-use) method that will help you reliably hire the best talent for your firm's success. We'll start with Laura's tried-and-true self-evaluation tool that helps you assess where a new hire could make a difference. We'll finish with a Q&A that is sure to help you make the right hiring decision when you are ready. Speakers: Laura Umansky.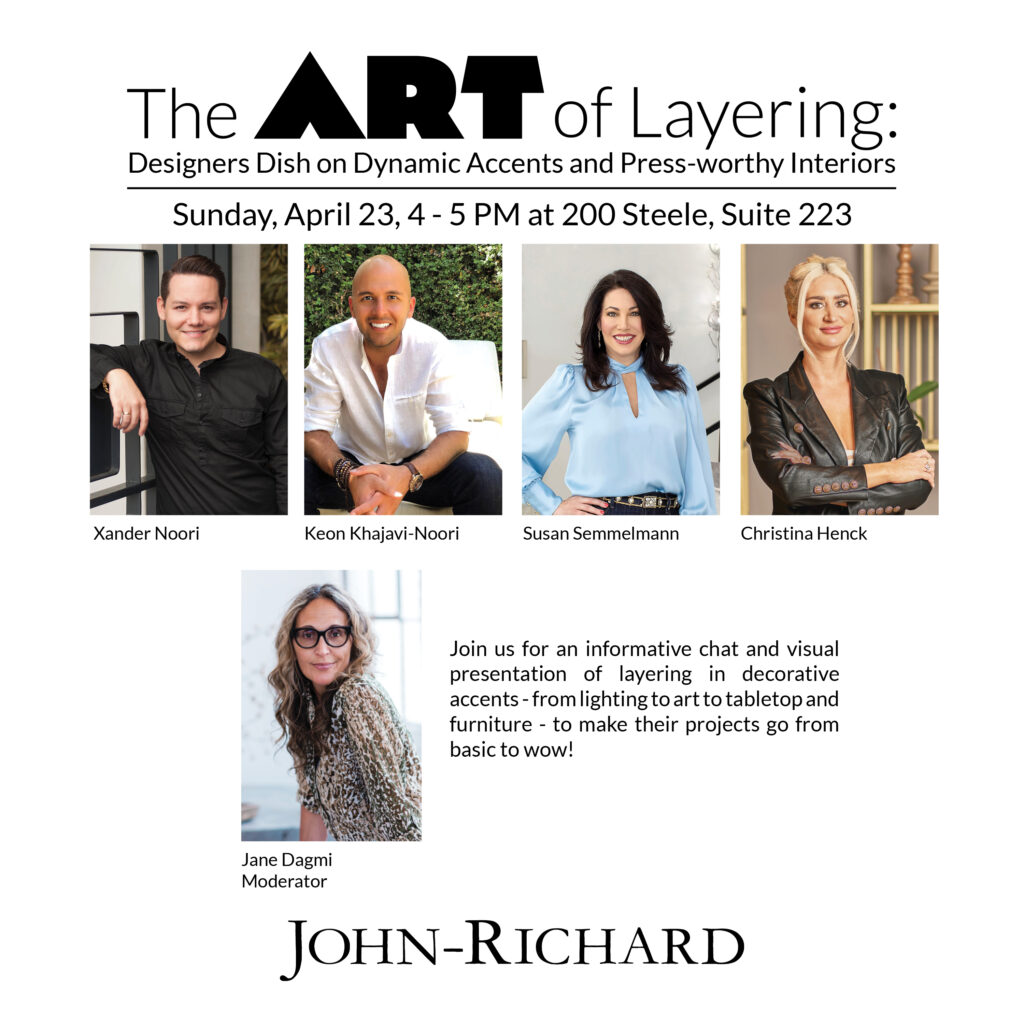 The Art of Layering: Designers Dish on Dynamic Accents and Press-worthy Interiors
4pm – 5pm | Sunday, April 23 John-Richard
200 Steele, Floor 2, 223 Shuttle Stop: 17 (Red Line)
Join published interior designers Xander Noori and Keon Khajavi-Noori, Christina Henck, and Susan Semmelmann for an informative chat and visual presentation, as they share ways to layer in decorative accents – from lighting to art to tabletop and furniture. You'll learn how these experts make their projects go from basic to wow, delighting their clients and ultimately editors. Moderated by Jane Dagmi, plan to stay after the talk for panelist-guided tours of the John-Richard showroom and a cocktail reception.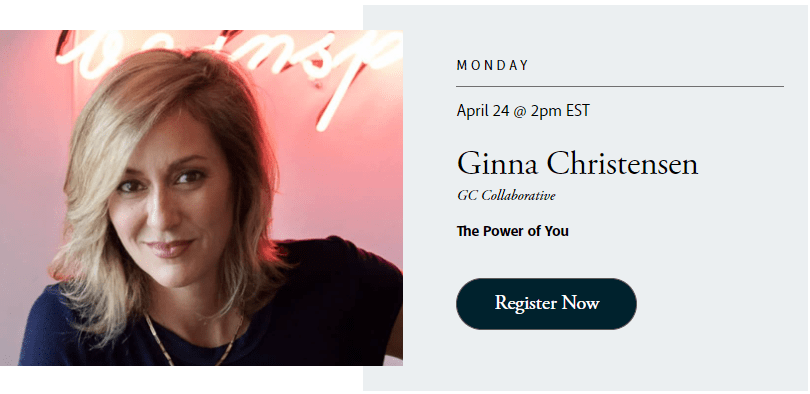 The Power of You
2-3pm | Monday, April 24 | Universal 
101 S Hamilton Street Shuttle Stop: 15 (Red Line)
Ginna Christensen GC Collaborative: We are constantly under pressure and told how to think, act, and grow our businesses. The only problem is you may begin to doubt yourself. I help clients regain trust in themselves and allow their gut, intuition, creative ideas, and values to determine the way forward. During this interactive presentation, we will focus on one tool: Human Design. Working with three volunteers from the audience, I will walk you through the practical tools this road map provides so that you can avoid burnout while feeling more confident, satisfied, and successful. RSVP  Required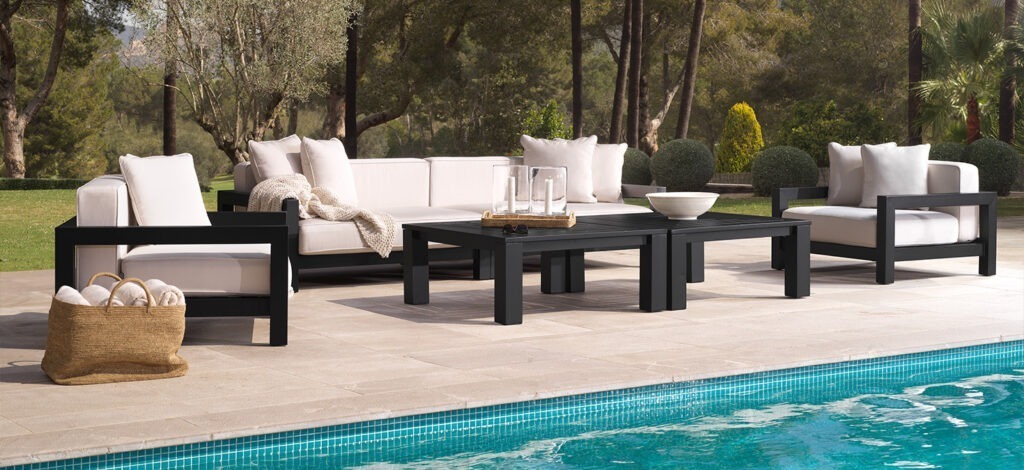 Coast to Coast: The Luxury of Indoor/Outdoor Living 
3pm – 4pm | Monday, April 24  | Eichholtz
129 S Hamilton St, Shuttle Stop: 1 (Transportation Terminal)
From the sunny beaches of Miami to the verdant landscapes of Los Angeles, the connection to nature is a way of life. Enter the world of Eichholtz to be transported to paradise. In celebration of our new collection of Teak Outdoor Furniture and our soon-to-open locations in Miami and Los Angeles, we invite High Point Market attendees to join a dynamic panel on indoor/outdoor luxury living. Moderated by StyleRow's Erinn Valencich, in conversation with Netflix's Designing Miami star and Principal of Sire Design Eilyn Jimenez and HGTV host and award-winning LA-based designer Breegan Jane. "Miami Nights" reception to follow.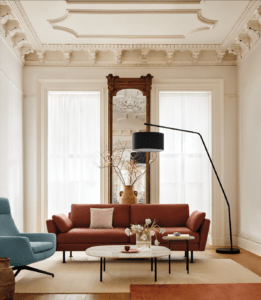 Intro to EQ3 Trade Program
4pm – 6pm | Tuesday, April 25 | EQ3
220 Elm St., Floor 4
EQ3 is a design house of passionate authors with the shared goal of creating designs you can bring home today and live with forever—a new way forward, one creating a more beautiful future. Join them for an exclusive Trade program event where you can learn about their industry-leading program, preview their latest collections, enjoy seasonal hors d'oeuvres and refreshments, and explore an outdoor vignette featuring Loll Designs—specially available to our guests. RSVP here.