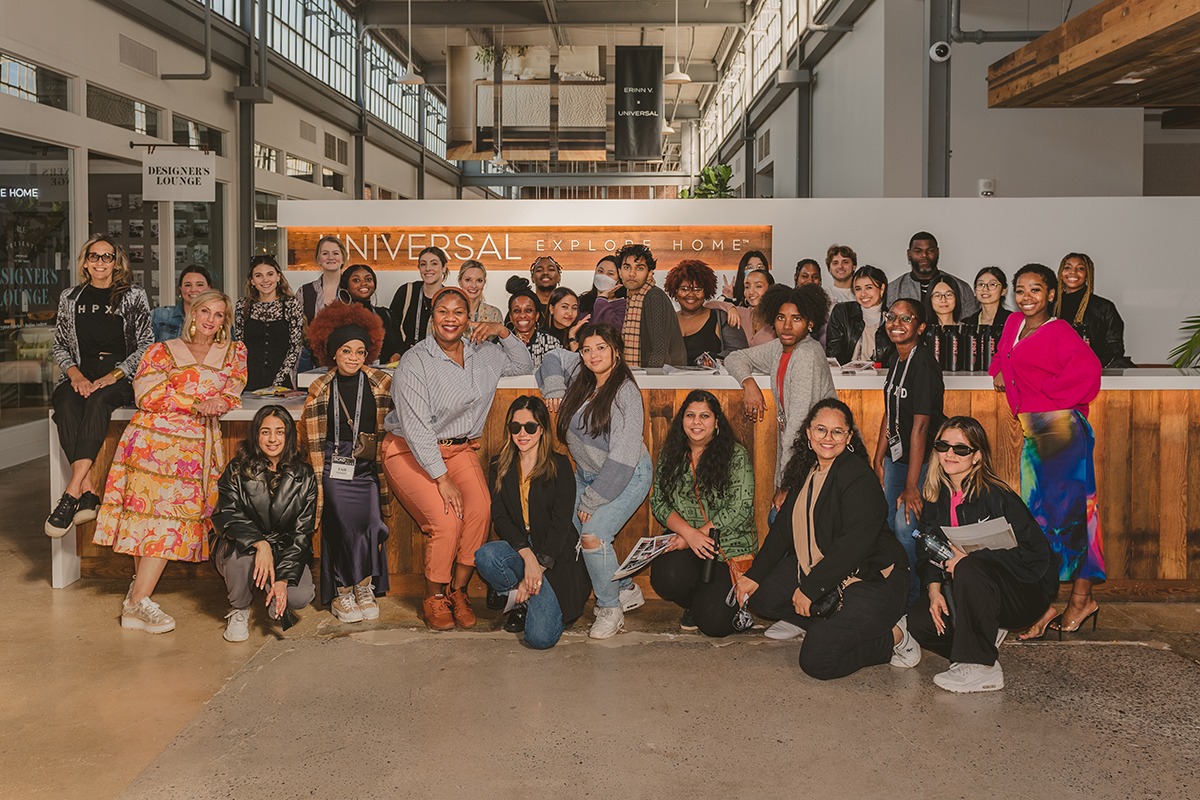 SCAD interior design students visit High Point for a three-day immersive experience
A few days after October High Point Market, HPxD welcomed 29 interior design students from the prestigious Savannah College of Art and Design (SCAD) for an immersive High Point experience. The visit was designed with SCAD to introduce interior design students, the majority of who had never been to High Point, to the creative and innovative design ecosystem that exists in the city. 
"High Point is an amazing learning lab, and when we speak about an open and activated High Point year-round, the education piece is vitally important to this vision," said HPxD managing director Jane Dagmi who organized the tour. "Our city is an amazing education destination with opportunities to see how products are created, to engage with the makers, and to understand how parts of the design industry work together." 
Supported by High Point Market Authority and Visit High Point, Johnny Davis Digital, HPxD members and others, the three-day itinerary exposed students to manufacturing processes, showrooms, and creative design professionals that make High Point entirely unique, while providing inspiration and resources including custom upholstery, furniture, finishes, textiles, lighting and art – which interior design students can utilize in their class projects and future design careers. 
SCAD Professor Kia Weatherspoon, who is also the principal of Determined by Design and advocate for designequity™, reached out to Dagmi this summer and expressed an interest in bringing her Interior Materials class to town. "High Point has always been the intersection of interior design, manufacturing, artisans, creatives, and makers." she says. "For me, it was important that my students experience the diversity of creative practices and understand how it translates into production and manufacturing. And there's only one place that can happen – High Point!" 
Stops on the SCADxHPXD tour included the manufacturing facilities of Verellen, Baker, and Davis, plus Sherrill and Universal furniture showrooms, and Kravet and Culp textiles showrooms. The students were also invited to see behind the scenes at Herzog Veneer, Carolina Casting and Stabb Designs who collaborated with Thompson Traders on a pop-up. The students toured two working design firms –  furniture design studio Otto & Moore and interior design firm Barbour Spangle – which enabled them to see how award-winning design firms operate. 
Splashworks, which was also on the tour, showcased their company's designs and manufacturing of acoustic panels and art in High Point. Splashworks' owner Tom Van Dessel, and president of HPxD shares, "We are excited to welcome each of the design students. Engaging our community and connecting students with our members is vital to HPxD's mission, and to the future of our industry."
Hands-on activities were also on the agenda. At Gallery on Main, students decorated paper-pulp masks using paint, recycled fabric and trimmings. On day two, there was a visual merchandising competition created in partnership with Cohab.Space, whereby the students were divided into four groups and tasked with designing Cohab's street-facing windows on English Road. With only one hour to conceptualize and install a finished display, they pulled merchandise – furniture, decor, lighting, clothing and vintage salvaged finds – from Cohab's galleries. HPxD members and industry pros judged the competition and announced the winning team at a group dinner that followed. 
The success of the event was measured by student feedback. Anubha Agrawi, who is earning an MFA in interior design, shared that the mask-making felt nostalgic. "It took me back to the days before school when I used to craft things just for fun." BFA candidate Hensi Patel was captivated at the precision with which leather hides are cut at Baker. And Fajr Williams, studying both interior and industrial design, was inspired by Sherrill's "leather whisperer" Alan Price , who shared about his journey in furniture design. "You could see the love and devotion in his chairs." Williams wrote. "He's someone I aspire to be like when I get into the field. Hearing him speak lit a fire under all of us."
Above photo: Johnny Davis Digital