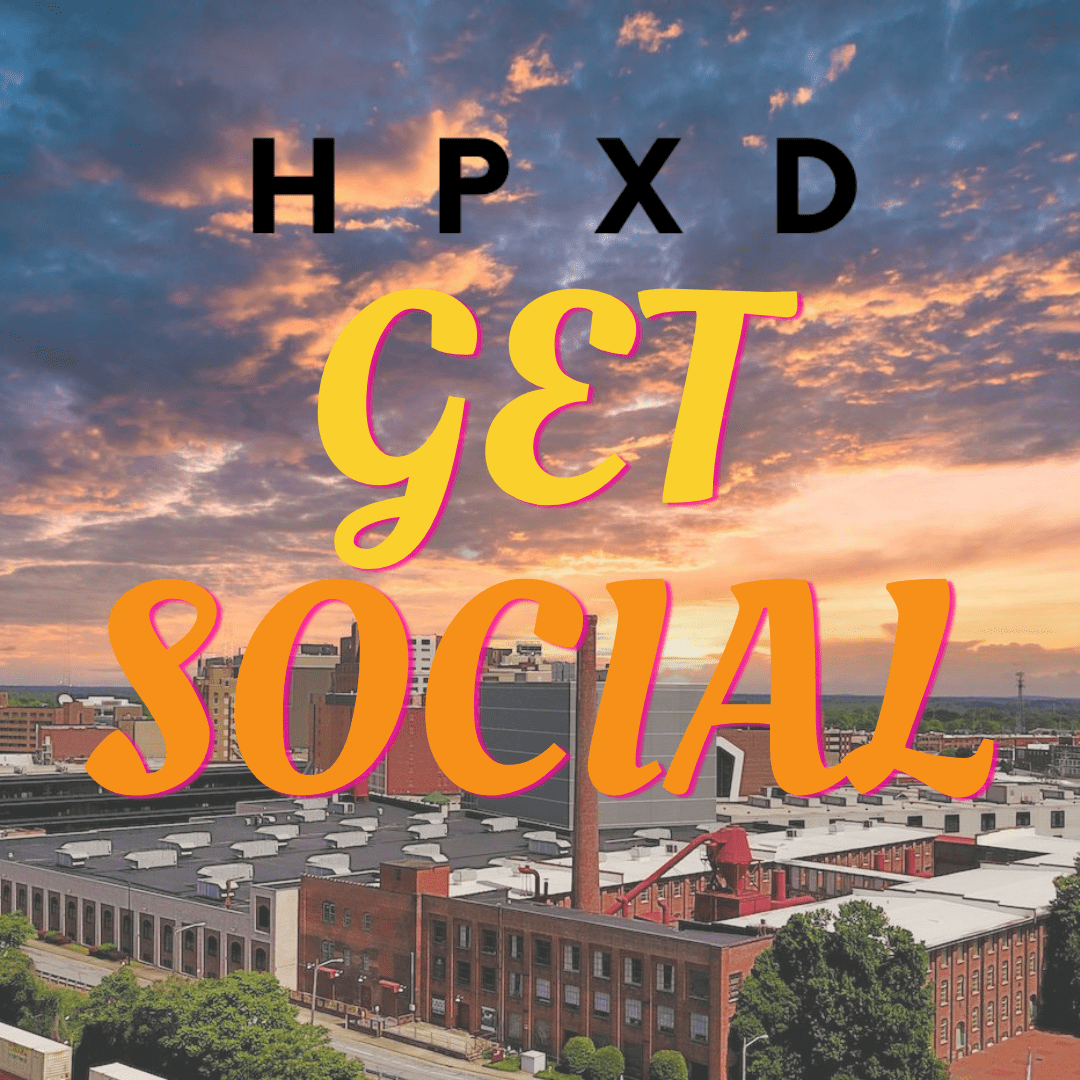 Get Social at Market!
HPxD highlights the social scene at #HPMKT with exciting events for our design community.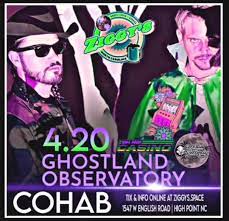 Doors open at 7pm Show: 8pm | Thursday, April 20 | COHAB Space / Ziggy's (Tickets $30 to $60 on Ziggy's website)
Ghostland Observatory's entire approach to music – sonically, aesthetically, conceptually – is essentially a melding of the two distinctly different personalities of its two members, Thomas Ross Turner and Aaron Behrens.  The result is a shimmering, pulsing pop music that is at once kinetically alive with Behrens' striking vocals and driving guitar work but also anchored firmly by Turner's percussive beats and Moog-generated melodies and hooks. Common descriptions include "electro-dance rock," "synth-funk" and "Freddie Mercury-helms-Daft Punk."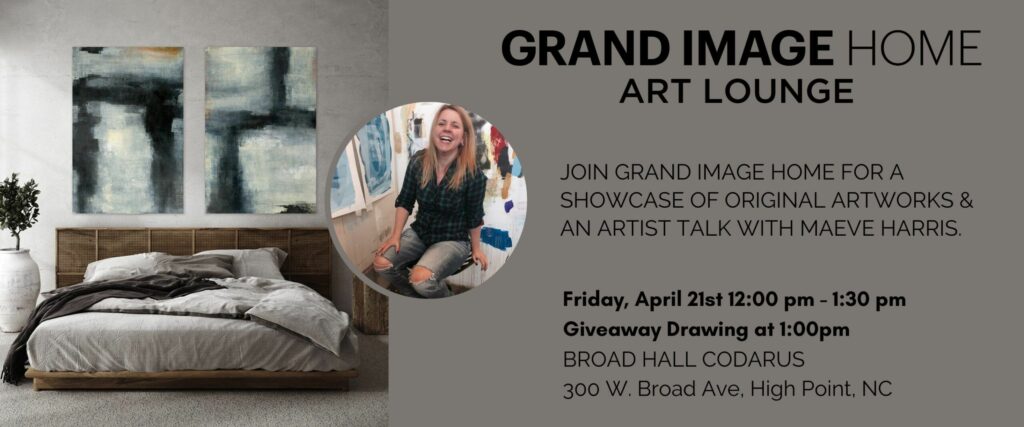 12pm – 1:30pm | Friday, April 21 CODARUS & Grand Image Home: Meet Maeve Harris  CODARUS 300 Broad Ave. Shuttle Stop: 27 (Red Line)
Join Grand Image Home for a showcase of original artworks. Enjoy a light lunch and refreshments while perusing one-of-a-kind original artwork and chatting with artist Maeve Harris. Enter for A Giveaway Drawing at 1:00pm. Speakers: Maeve Harris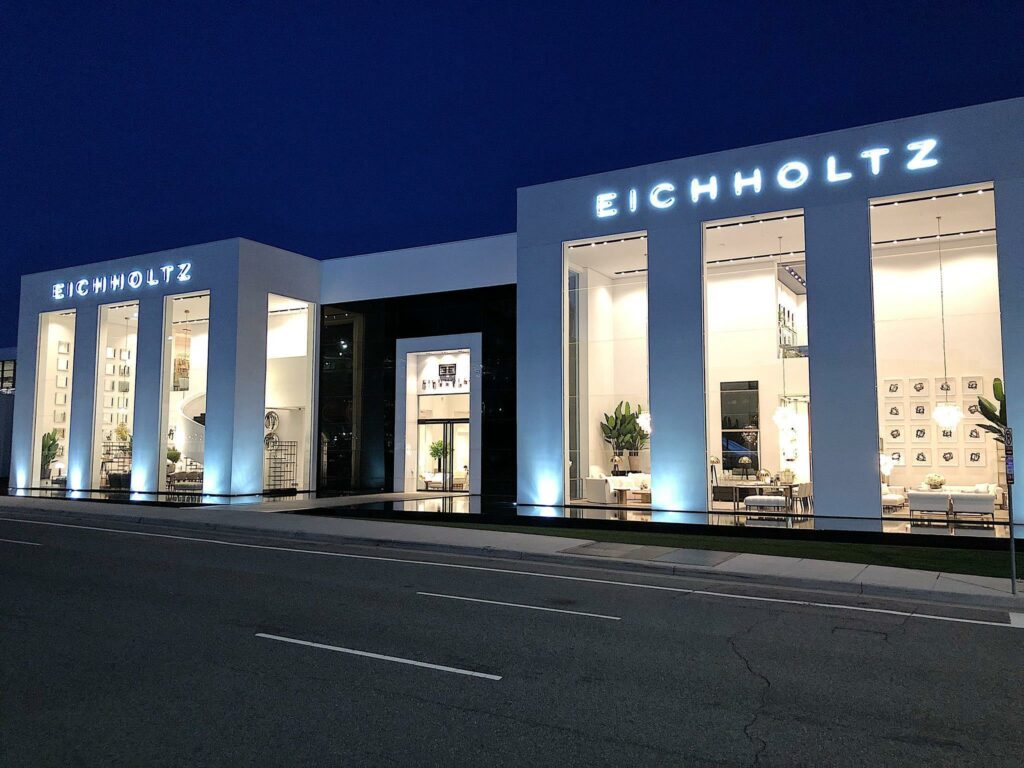 5pm – 9pm | Friday, April 21 Home vs. Hunger's Party with a Purpose | Eichholtz | 129 S Hamilton St, Shuttle Stop: 1 (Transportation Terminal)
Kick-off High Point Market with Eichholtz and Home vs. Hunger to "Party with a Purpose". Join the celebration and support our industry's efforts in fighting food insecurity with a fundraiser benefitting World Central Kitchen. See Eichholtz's full schedule of events during HPMKT.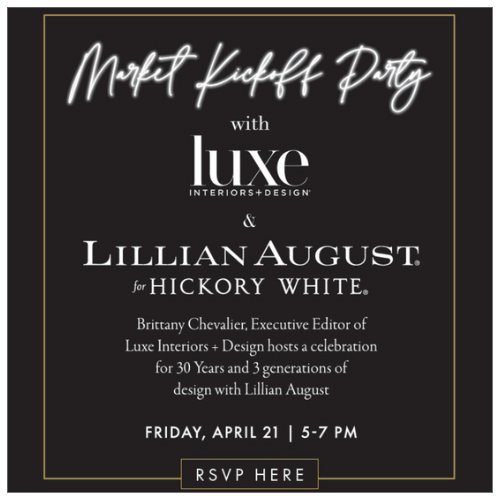 5 pm – 7 pm | Friday, April 21 Market Kickoff Party – Luxe Interiors + Design Host Celebration for Lillian August Anniversary in Sherrill Showroom Hickory White, 315 Fred Alexander Pl., Shuttle Stop: 18 (Red Line)
Who doesn't love a good party?! We invite you to join Brittany Chevalier, Executive Editor for Luxe Interiors + Design to kickoff spring High Point Market in style with a celebration of 30 years and 3 generations of design with Lillian August! Co-Hosted by Eliza & Dan Weiss. RSVP @ sherrillevents.com.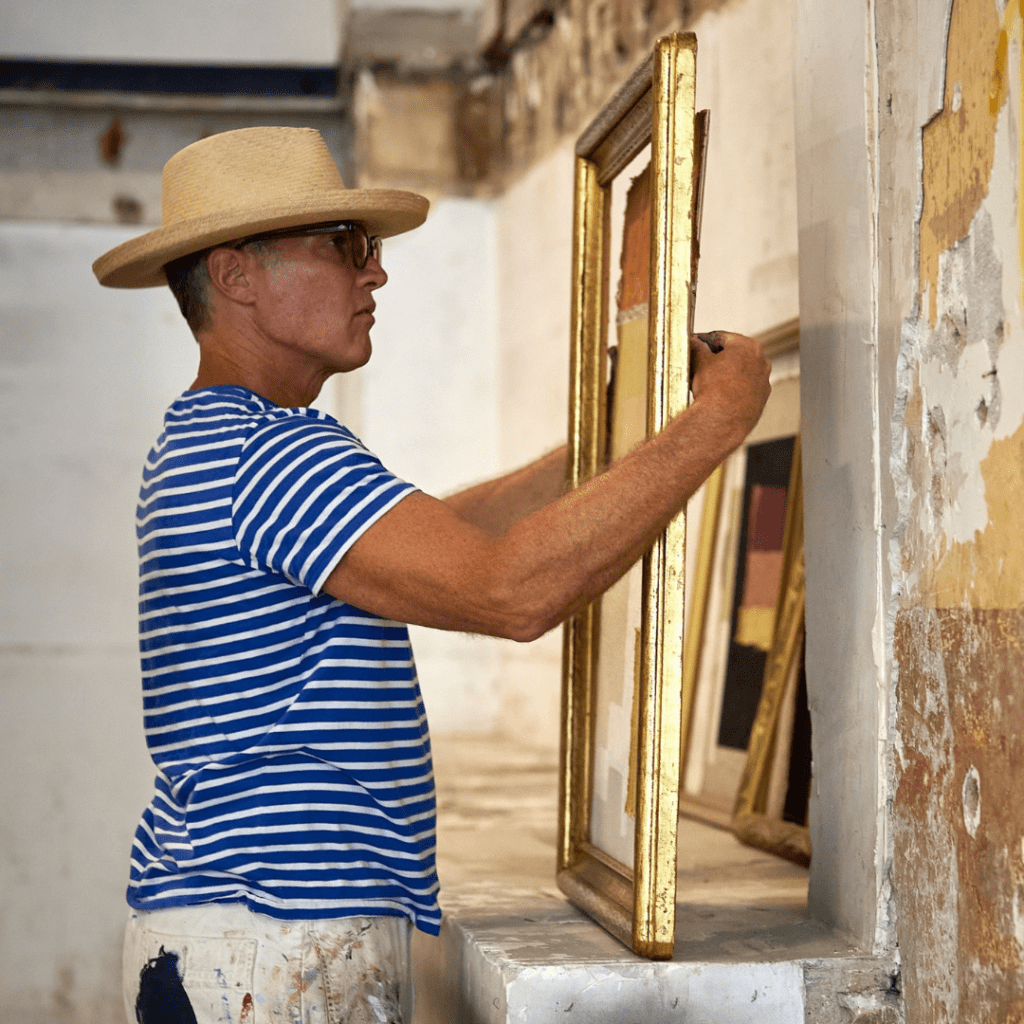 4pm – 7pm | Friday, April 21  | The Gallery at Schwung, 501 S. Centennial St. 
Collected by Schwung is hosting a cocktail reception for designers and furniture industry media in celebration of a new body of work by artist Raoul Morren, whose mesmerizing layered and textural works incorporate antique elements, found items, vintage textiles and paint. Additionally, a short and inspiring biographic video of the artist will premiere. ⁠ RSVP dmontim@gmail.com⁠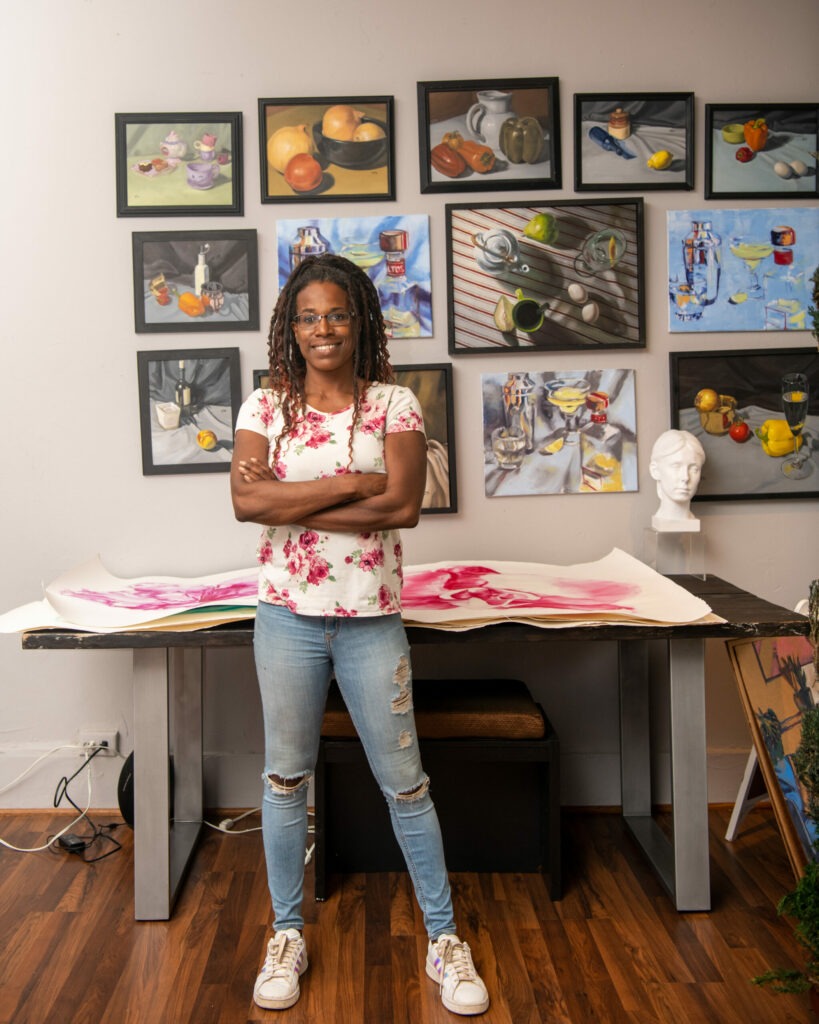 7pm – 9pm | Friday, April 21 Market Kick-off at Sabrina's Gallery on Main, 114 S Main St, Shuttle Stop: 14 (Red/Green Line)
Sabrina is uber excited to welcome everyone back for another Market! The Gallery is in a brand-new space and there are a lot of artists and makers in the mix.  Kick off the weekend of events with art and refreshments. RSVP Required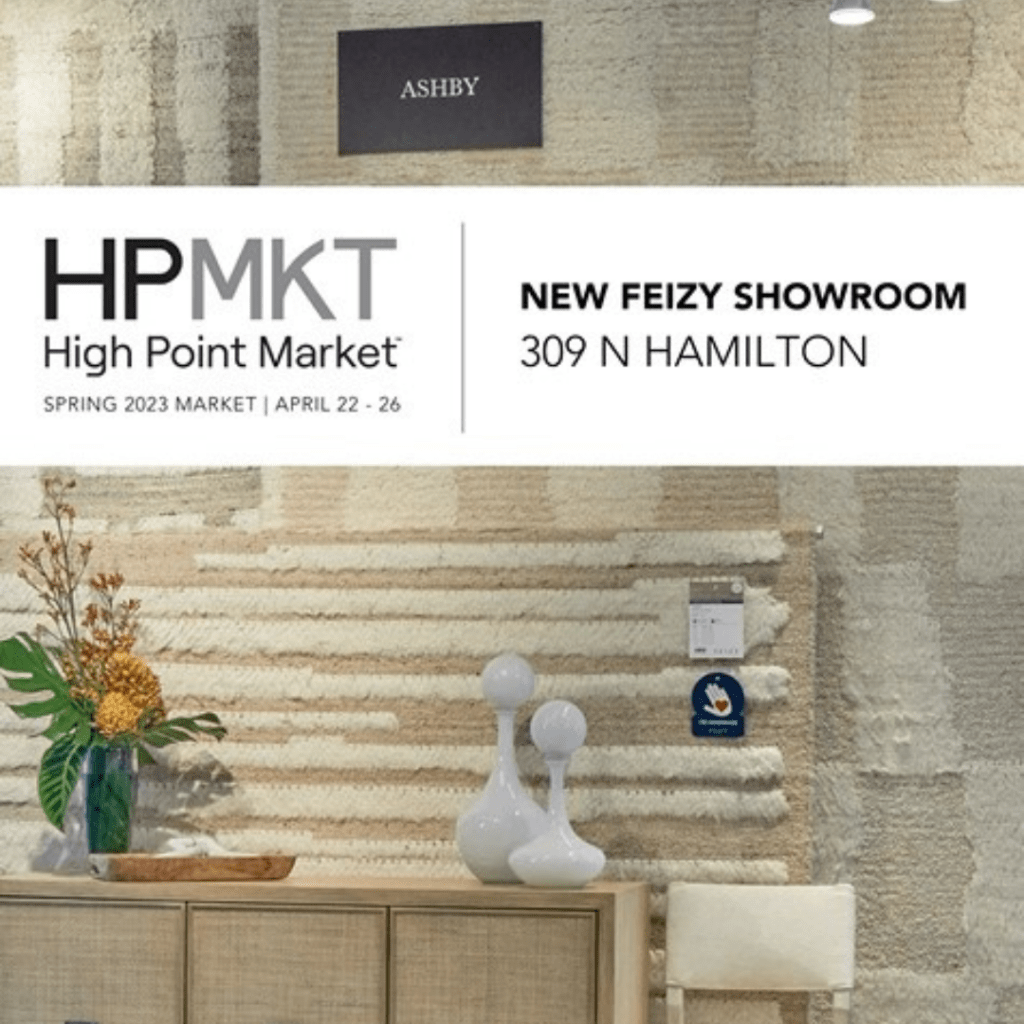 2pm – 2:30pm | Saturday, April 22 Grand Opening Ribbon Cutting | Feizy Rugs, 309 N Hamilton St Shuttle Stop: 18 (Red Line)
Cheer and snip! Nothing like a ribbon cutting to signal the grand opening of make Feizy's new High Point digs!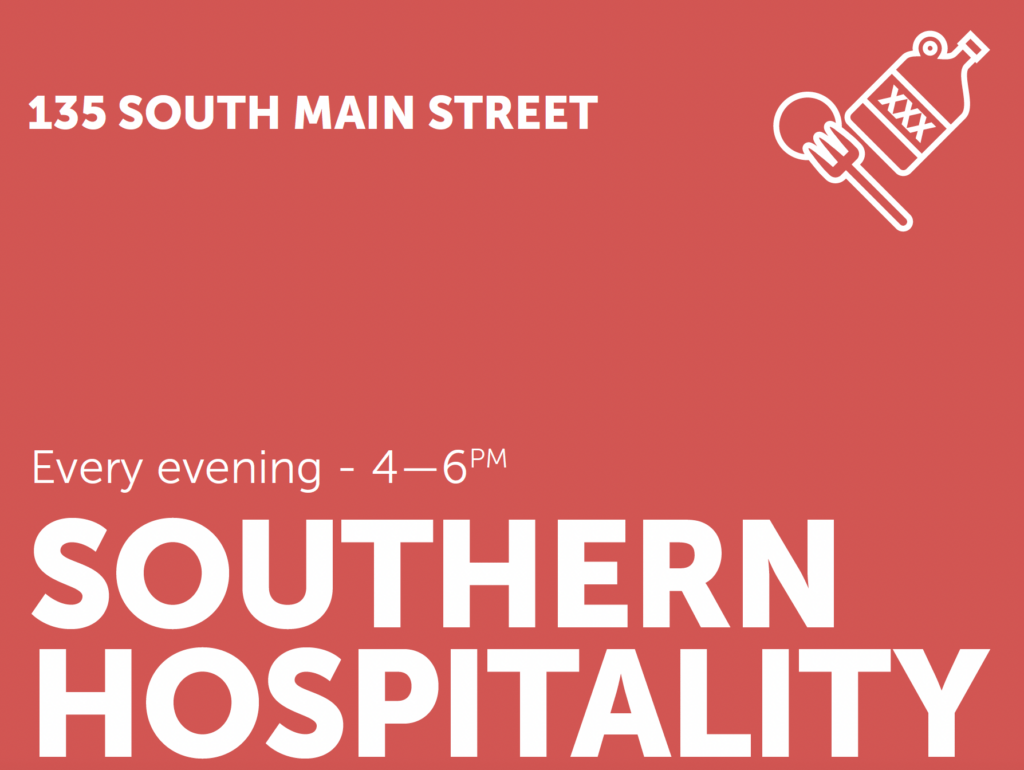 4pm – 6pm | Phillips Collection New Showroom Grand Opening Event | 135 S Main Street x Commerce Ave.
Let's party! There's much to celebrate at Phillips Collection, as they debut their new 20,000 square foot flagship during High Point Market. Filled with limitless treasures, this fresh modern space includes a dedicated design center where interior designers and dealers can work with Phillips Collection's team to create custom pieces and plan their design and hospitality projects.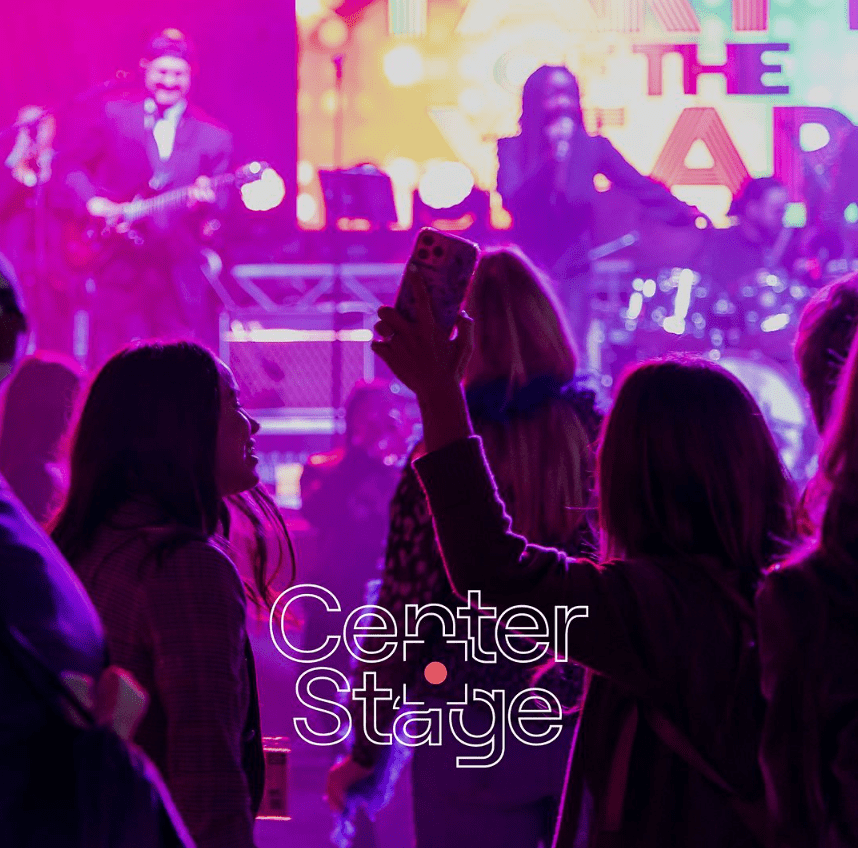 7pm – 8:30pm | Saturday, April 22 High Point Market presents En Vogue Live at Center Stage! Center Stage, in between the IHFC Transportation Terminal and Showplace
Center Stage, featuring live music by the legendary musical group, En Vogue. Doors open at 6:30 pm and the concert begins at 7:00pm. Early entry for buyers is 6:15pm. Complimentary food & beverage will be provided.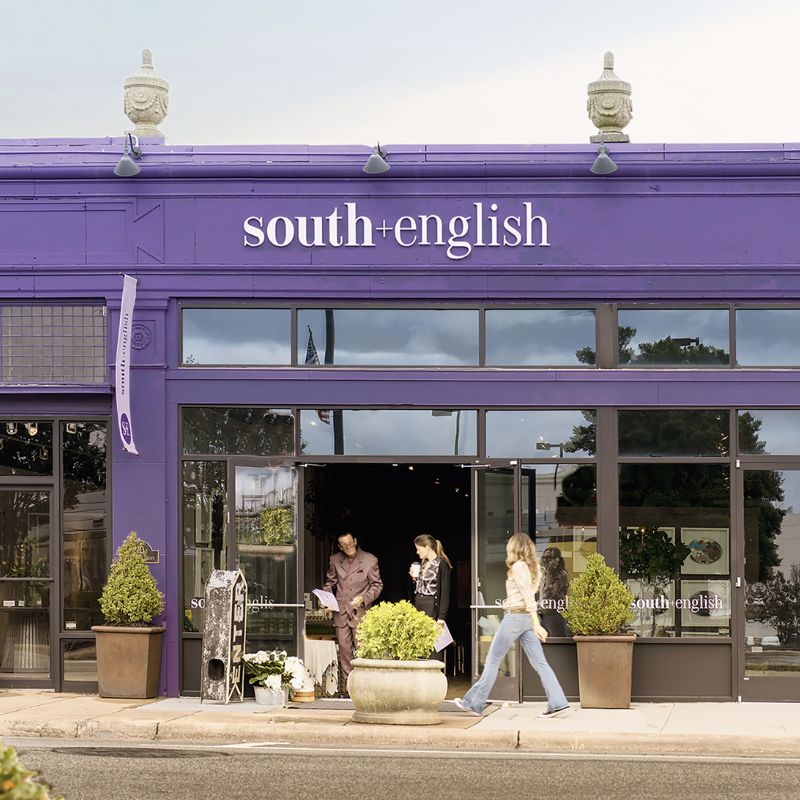 9am – 12pm | Sunday, April 23 Bloody Mary Bar South + English 212 E M.L.K. Jr Dr, Shuttle Stop: 17 (Red Line)
Some like it hot. Some not. Join S+E for High Point's best Bloody Marys (with nibbles) on Market Sunday. Choose from our ready-to-drink Bloody Mary house blend or a made-to-order custom blend. Cheers!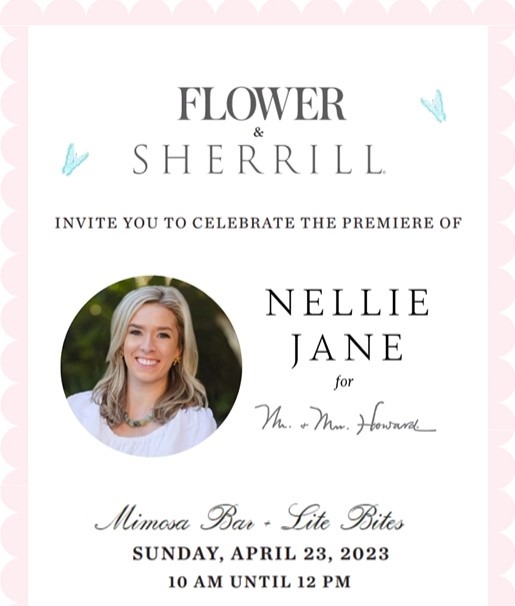 10am – 12pm | Sunday, April 23 Mimosa Brunch with Flower Magazine to Celebrate the Premier of Nellie Jane for Mr. & Mrs. Howard | Sherrill Furniture, 315 Fred Alexander Pl., Shuttle Stop: 18 (Red Line)
Margot Shaw, Founder & Editor-in-Chief of Flower Magazine & Sherrill Furniture invite you to a cheerful Sunday brunch to celebrate the premiere of Nellie's capsule collection, Nellie Jane for Mr. & Mrs. Howard. Enjoy Mimosas & lite bites from 10 am-12 pm on the 2nd floor of the brand new Sherrill Showroom.  RSVP Required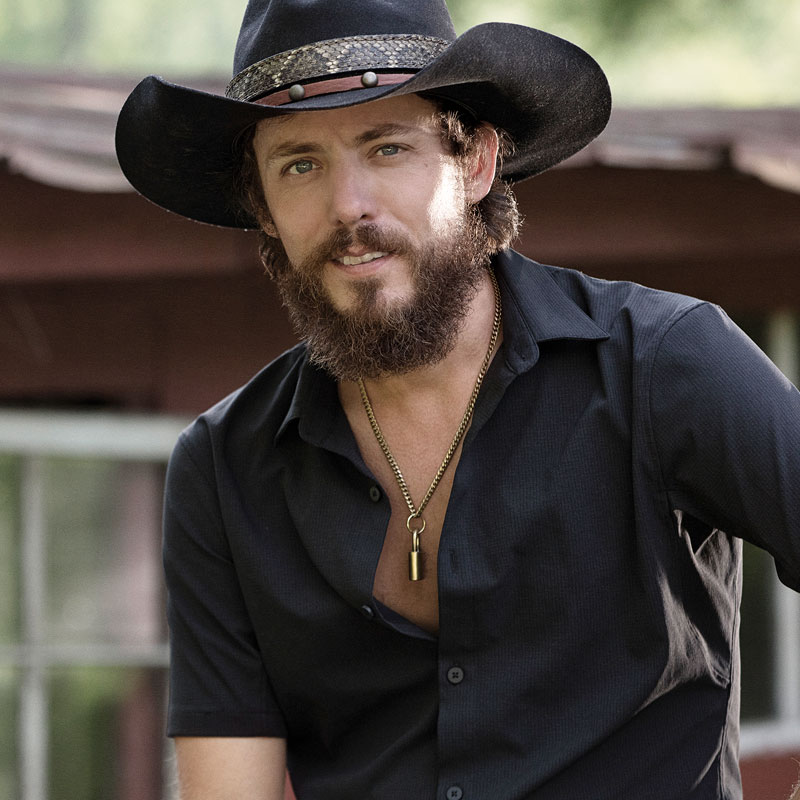 5pm – 9pm | Sunday, April 23 – Backstage at Eichholtz: Chris Janson | Eichholtz 129 S Hamilton St, Shuttle Stop: 1 (Transportation Terminal)
Join Eichholtz for a BBQ cookout as you enjoy the sounds of country music star Chris Janson from the Eichholtz terrace, situated directly behind centerstage. Cowboy boots are encouraged, but not required.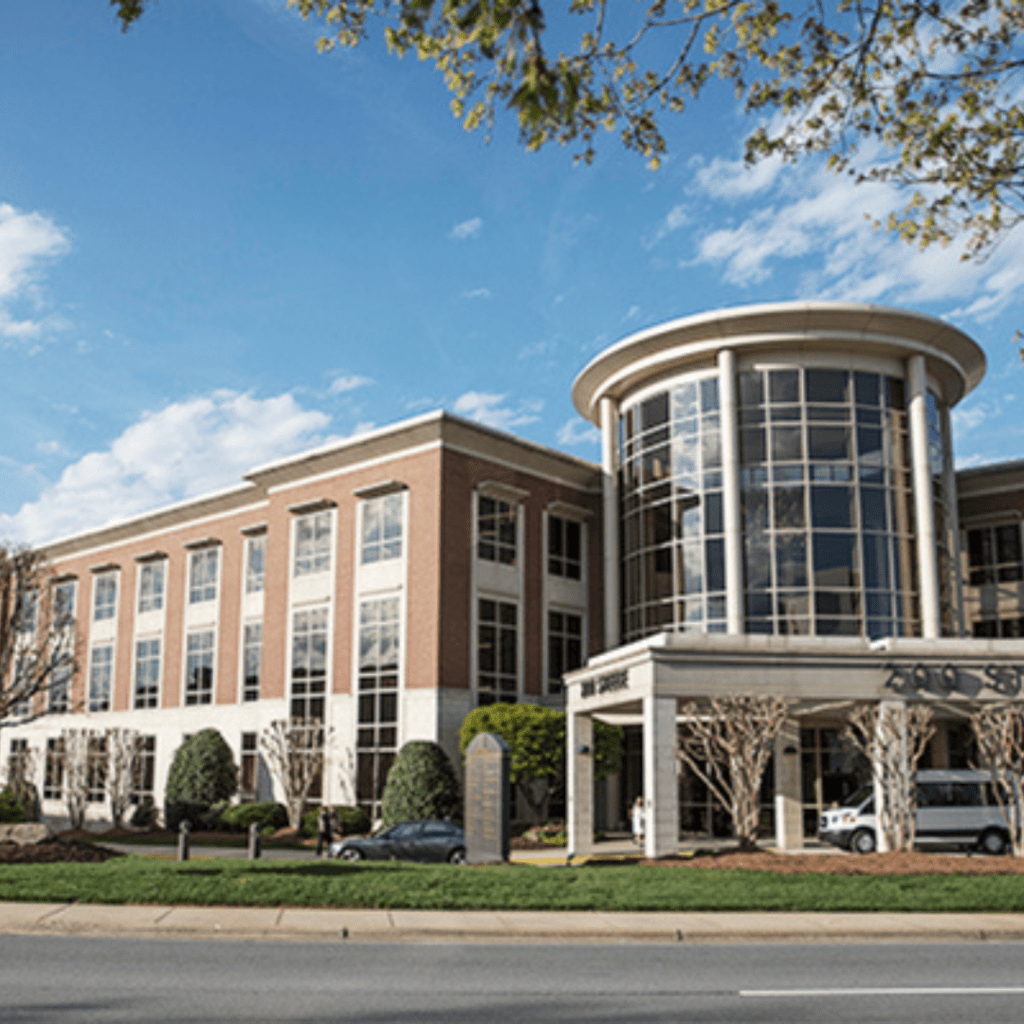 6pm – 9pm | Sunday, April 23 The 3rd Floor Steele Building Party! Woodbridge Furniture, 200 Steele, Floor 3, 301Shuttle Stop: 17 (Red Line)
Come join Woodbridge for an evening of live music, dancing, and fun! Bring your best dance moves and join us and the rest of the 3rd Floor in the Steele Building for delicious food and tasty cocktails. Featuring live music by the Extraordinaires. Sunday, April 23rd at 6:00 PM.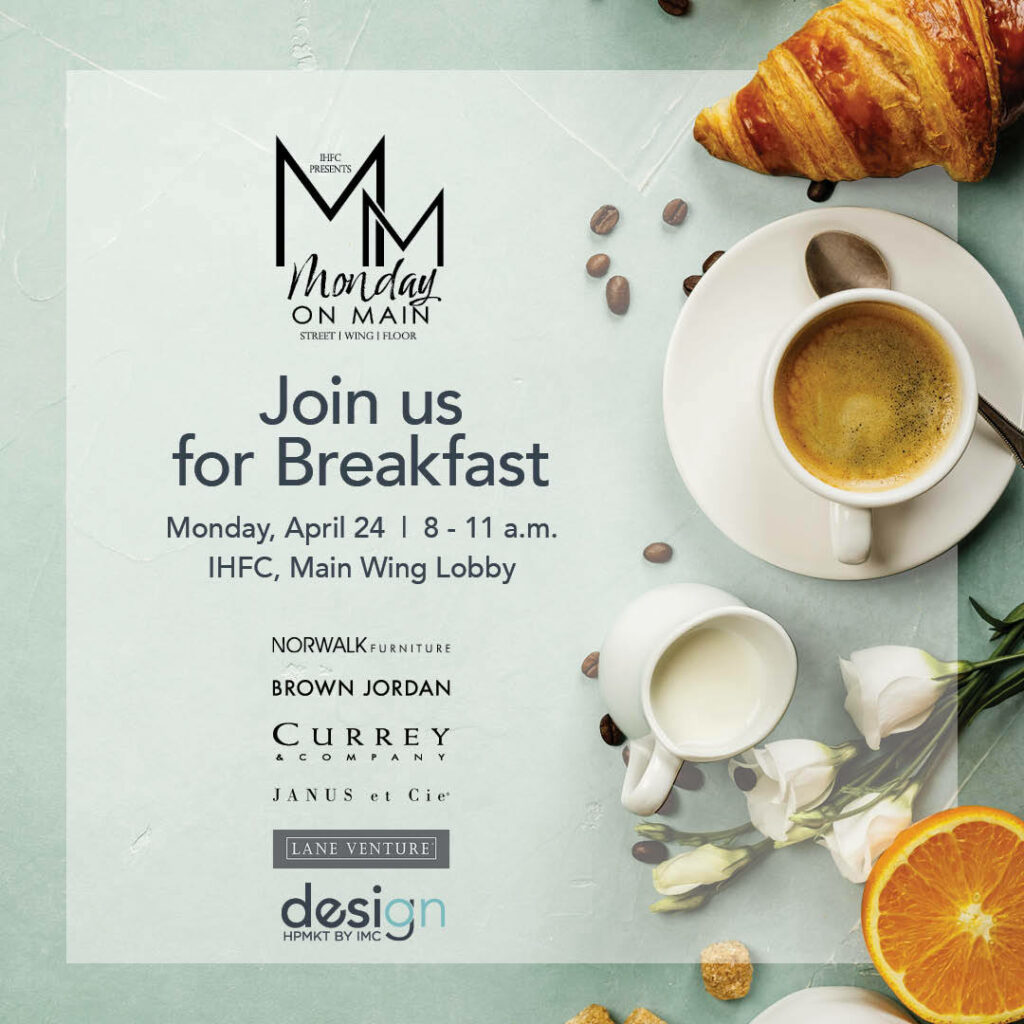 8am – 11am | Monday, April 24 IMC's IHFC Main Wing, Lobby.
Join us for Monday on Main, where you can mix, mingle, and make new connections over complimentary breakfast and mimosas and bloody Marys in the IHFC Main Wing, Lobby. Co-sponsored by Norwalk Furniture, Brown Jordan, Currey & Company, JANUS et Cie, Lane Venture and DesignOn HPMKT by IMC.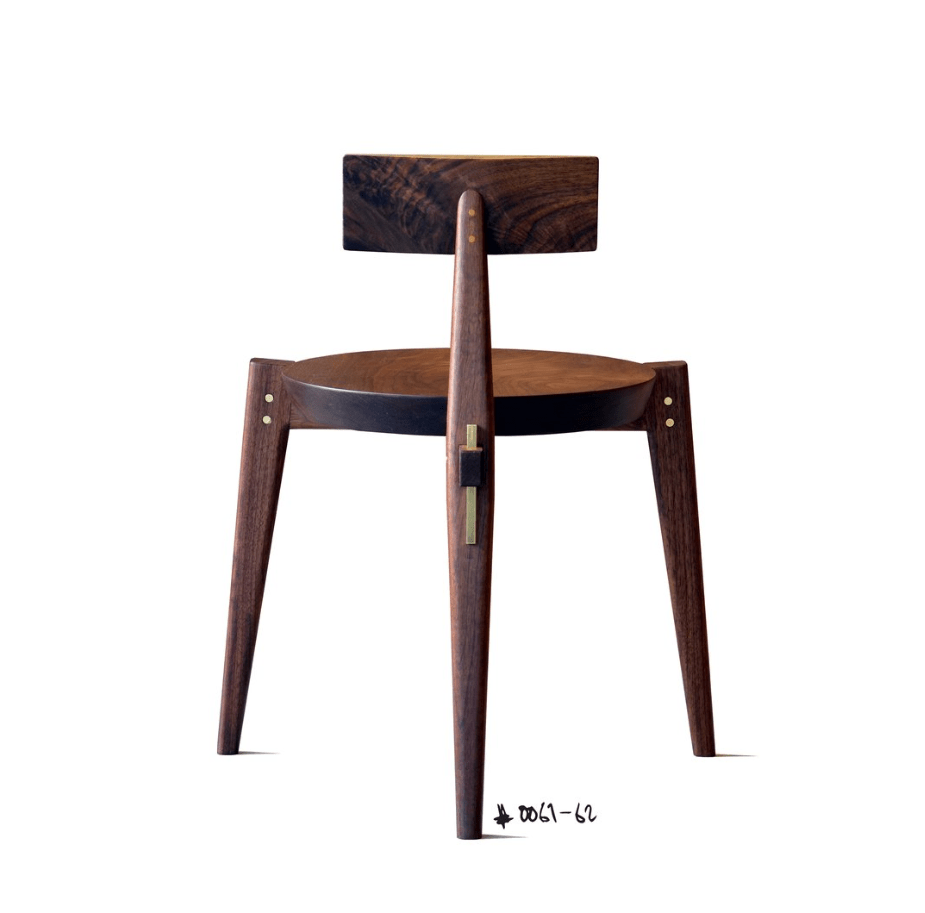 9am – 5pm | Monday, April 24 INNOVATION+DESIGN Awards, Finalists Exhibition Location: The Art Gallery at Congdon Yards, 400 W. English Rd., Suite 151.
See the work of some of today's most talented product design students and finest artisan makers as shown in the above from HPxD member Jeremy Kamiya, Kamiya Furniture – in this presentation of our 2023 INNOVATION+DESIGN Finalists. Professional entries came from designer-makers across the United States, and we brought the top two entrants from each category here for you.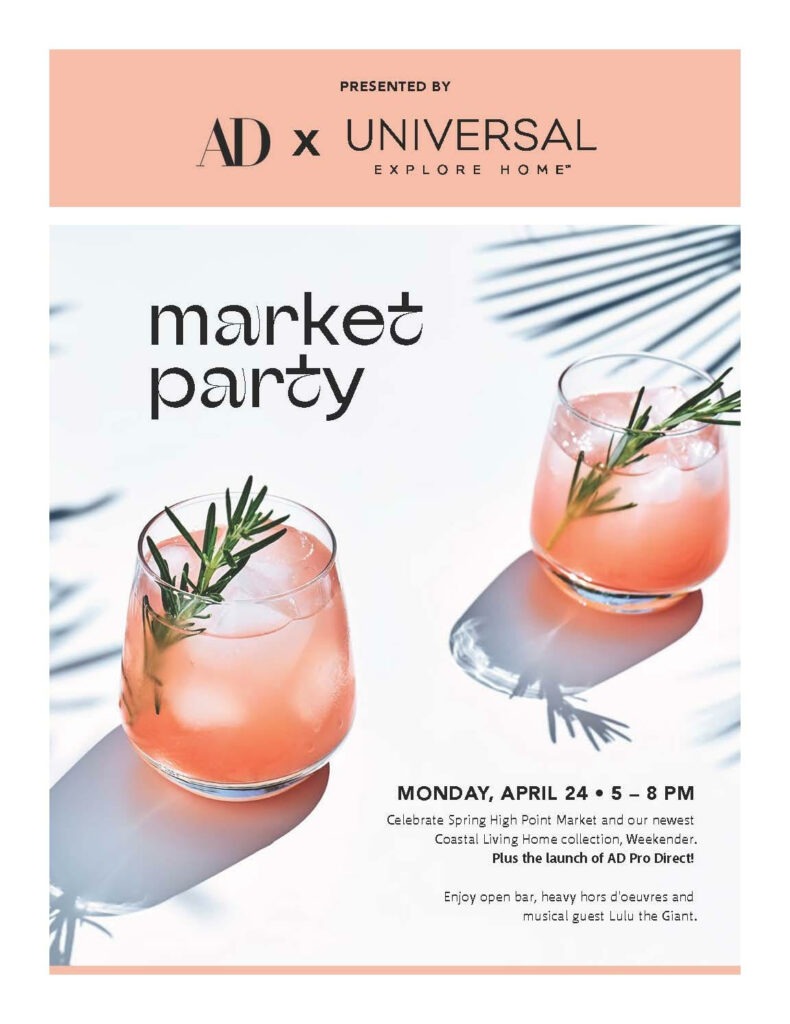 5pm – 9pm | AD x Universal Market Party | Universal 101 S Hamilton Shuttle Stop: 15 (Red Line)
Celebrate Spring High Point Market and our newest Coastal Living Home Collection, Weekender – PLUS the launch of AD Pro Direct! RSVP is required.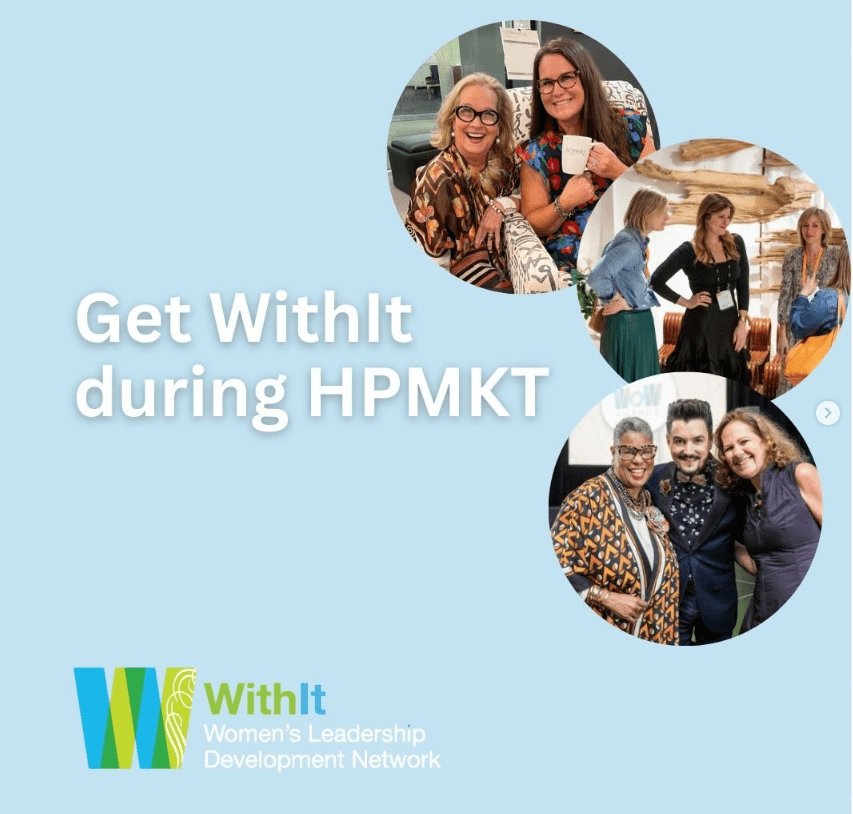 5:30pm – 7:30pm | Monday, April 24th WithIt High Point Market Networking Event | Home Furnishings Hall of Fame, 311 S. Hamilton Street.
Join WithIt women for networking and to celebrate the opening of The Women's Center at The Home Furnishings Hall of Fame during High Point Market. Guests are welcome – come learn about WithIt and how this organization supports women in their career journey. RSVP at withit.org.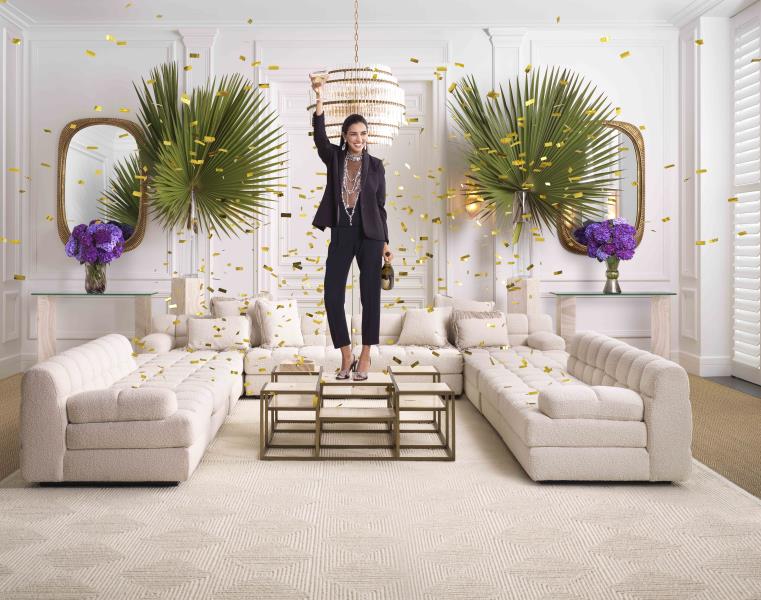 4pm – 8pm | Tuesday, April 25 – Closing Night Party Eichholtz 129 S Hamilton St, Shuttle Stop: 1 (Transportation Terminal)
End Market on a high note at Eichholtz. Luxuriate in a magnificent setting as you toast to another season of design inspiration.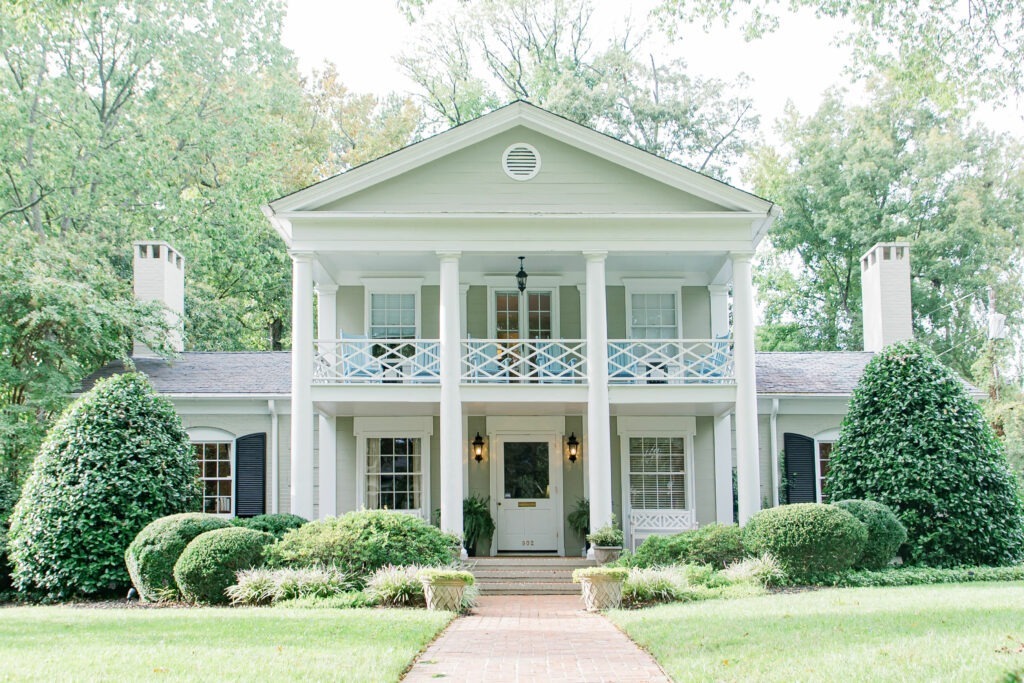 Showhouse dates: April 14th – 23rd | Junior League of Greensboro Designer Show House '23 at 902 Sunset Drive, High Point. 
The Junior League of Greensboro is hosting its fourth Designer Showhouse this spring until April 23rd, 2023. The historic home chosen for this event is located in prestigious Irving Park near the Greensboro Country Club at 902 Sunset Drive. The funds raised by this event will support the Junior League of Greensboro's mission as well as help sustain our community impact programs for the next three years. Tickets are available now on Eventbrite.