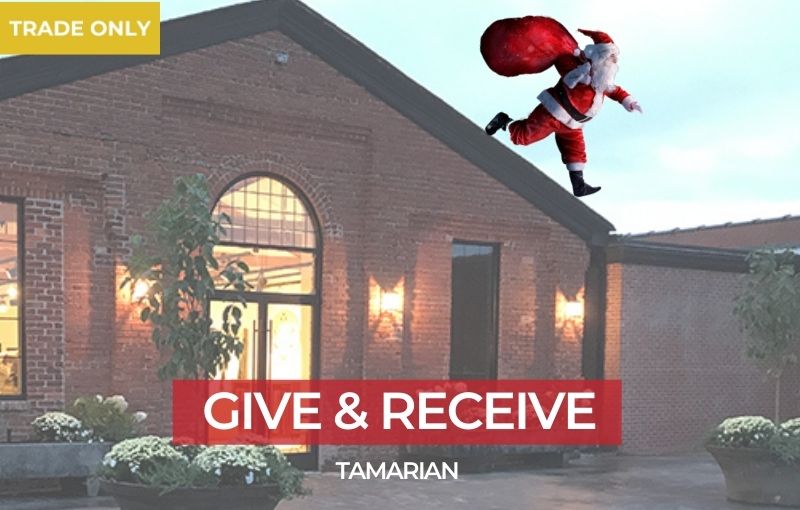 Psst, Tamarian has a free gift for you…
OPEN TO THE TRADE ONLY
Beautiful hand-knotted rugs of all sizes, colors, styles and (sale) prices await you at Tamarian. Many are available for take-with or quick delivery. But there's more. There's a karmic reward in store for you at Tamarian.
Here' show it works: Design pros are invited to shop the new Tamarian High Point showroom in-person during Cool Yule. Contribute to one of three most worthy charities and receive a free 2'x3′ scatter rug, our thank-you for your generosity. It's a quid pro quo of the highest order.
YOUR CHARITABLE OPTIONS
Toys for Tots: Simply bring brand-new unwrapped toys to the Tamarian showroom. Working with HPxD and the local Marine Corps Reserve, we'll handle the rest. Toys for Tots puts coveted presents in the hands of children in need.
Alex's Lemonade Stand: Cash, checks and online contributions welcome. As a company and team, Tamarian is all-in on the mission, purpose and work of Alex's Lemonade Stand. The goal is to end childhood cancer. Your help is needed.
Studio M: Purchase a raffle ticket to win Reece's Legacy Bear, a sweet Teddy, handmade by seamstress extraordinaire Michelle Loggins. You might just win the bear and walk with a rug!
About the free gift: Scatter rugs (retail $500) are outtake samples of larger Tamarian rugs. Each is fully finished – surged on all sides – perfect for small spaces where details matter. We'll have dozens scatter rugs in-showroom, but shop (and give) early for the best selection.