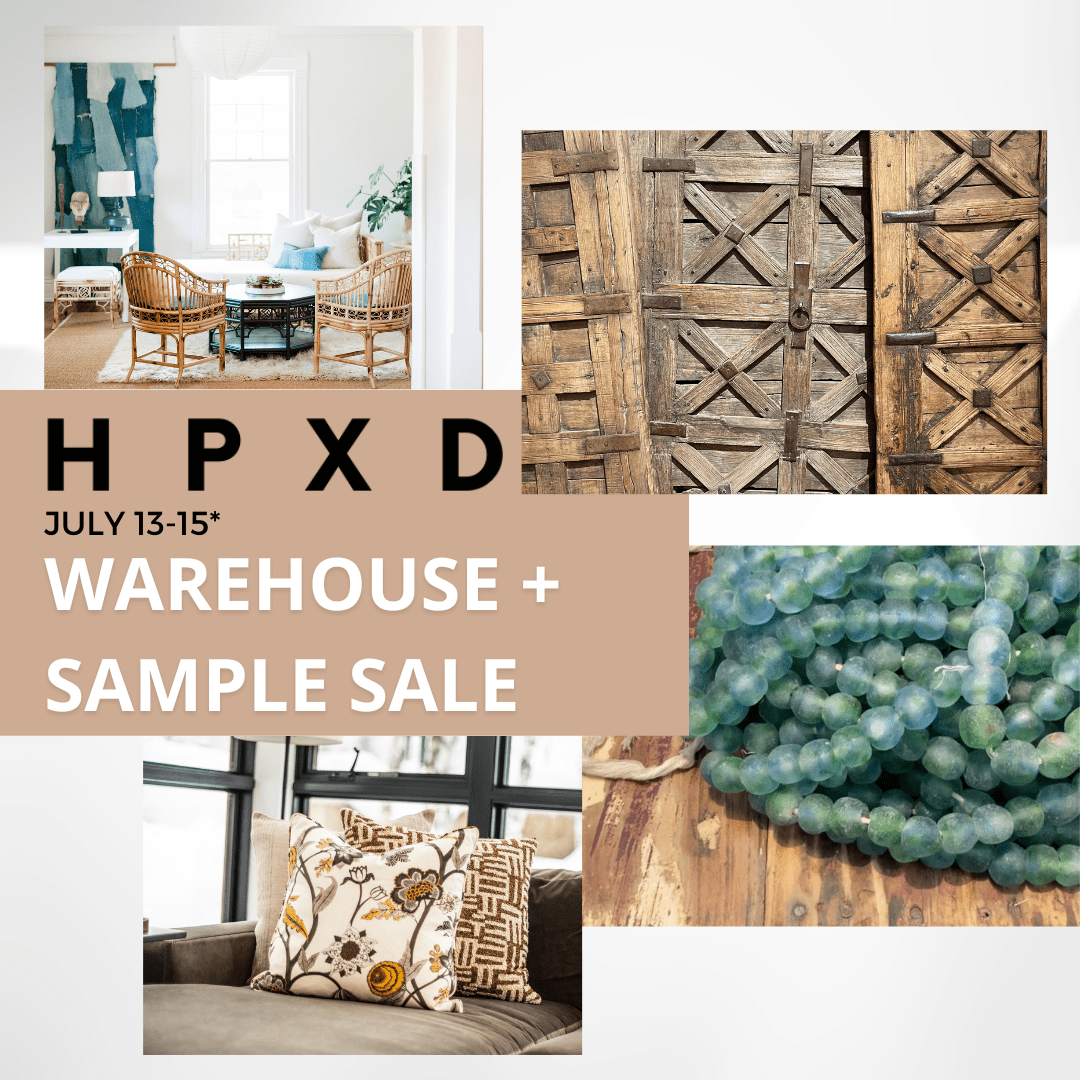 HPxD Mid-Summer Warehouse + Sample Sale
Attention Designers…the HPxD Mid-Summer Warehouse and Sample Sale is happening July 13-15!
Please check THE LIST for showroom addresses and hours.
OPEN THURSDAY – SATURDAY, JULY 13-15
Cohab Space: specials at both the showroom and warehouse include 20% off designer pricing, PLUS special tent sale with items 50-60% off trade pricing.⁠
Warehouse  111 Hodgin Street;  Th/Fri 9 – 4, Sat. 10 – 2
Showroom: 1547 W. English; Th/Fri 9-5; Sat 9 – 4
Golden Oldies is taking an additional 15% off; 312 W. Broad
Oly's warehouse sale features items at 50-70% off trade pricing. Warehouse: 1914 Alleghany St., Suite  #101. Open Th/Fri: 9-4; Sat. 10-2
Phillips Collection is offering up to 80% off retail pricing. 135 S. Main. Th/Fri: 9-5; Sat
Red Egg is bringing heavily discounted pieces from their warehouse to their showroom porch. 415 W. High Ave., Th/Fri: 10-4; Sat 9-12
OPEN THURSDAY + FRIDAY JULY 13-14
25 Mackenzie Lane 15% off fabrications. 110 S. Elm
Asian Loft: Up to 80% off items in the lower level – aka the dungeon – of their showroom and the warehouse will have markdowns on regular items and discontinued ones.
Warehouse: 212 Pendleton Street.; 9am-5pm
Showroom: 440 N. Wrenn; 9am – 5pm
Baker | McGuire wants to clear the floor before Market, so there are tons of new floor samples in the showroom ready to go. 319 N. Hamilton; Th/Fri 9 – 5
Blue Ocean Traders is featuring 50% off select items.⁠ 105 Depot Place; 9am-5pm
Capel Rugs: An eclectic assortment of showroom samples, including exquisite handknots, 80-90% off showroom samples. ⁠Market Square, #112; 10am-4pm
Collected by Schwung is offering designers 15% off everything in the showroom, including new arrivals and a container just came in last week! 501 S. Centennial; 9am-5pm
Dovetail is hosting a blow out art sale with pieces 35% off trade pricing. Market Square  #2G12.
Randall Tysinger Antiques' monumentous 2023 sale is offering 50% off retail. This sale is open to public⁠. 208 N. Elm; 10am-4pm
Splashworks has items starting at $5. Open to the public. 515 W. English Rd.; 9am-5pm
OPEN FRIDAY, JULY 14 ONLY:
Woodbridge has a variety of showroom samples and rugs. Items must be picked up within a week of purchase. 200 Steele, #301; 9am-5pm.