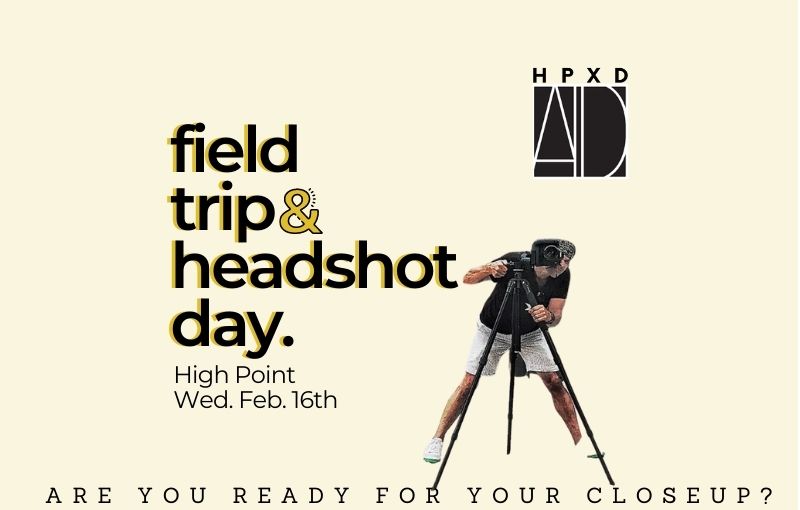 Field trip & headshot day with AID
Alliance of Interior Design members are invited to participate in a very special VIP event during HPxD's regularly scheduled opening on Wednesday, February 16. The daylong High Point immersion experience includes showroom tours (a.k.a. field trip), plus a professional photo session with HPxD fashion photographer and founding member Ron Royals. Hey, we'll even powder your nose! Your headshot session includes a pro makeup application from 10/40 Beauty.
HERE'S HOW IT WORKS:
Fifteen AID members will be selected for the VIP treatment, including makeup, photo session and curated showroom tours.
Carpool or tool your way to High Point to arrive at 10 am on Wednesday to begin a picture-perfect day!
Our fifteen VIP designers will hive off into three groups of five. Each quintet will rotate among showroom stops (see below) and the photo studio in a beautifully orchestrated and active day.
The headshot session includes professional makeup application and camera-ready time with a photographer Ron Royals. Artful portraiture is Ron's specialty, so get ready for your closeup! This session also includes a behind-the-scenes tour of Ron's studio, where you can shop fine art photography reproductions from The Royals Project, Ron's passion project.
Midway through the day we'll gather for lunch at Dovetail.
The day culminates at 5pm with cheers and a signature HPxD Mixer at Unique Loom.
WHAT ARE THE SHOWROOM STOPS? Glad you asked! Dozens of HPxD showrooms will be open on Wednesday. While you are free to roam, we have the day planned with a deep dive into the historic Market Square and surrounding showrooms. Plan to shop Asian Loft, Capel Rugs, Dovetail, Feizy Rugs, Frankie Davidson, Safavieh and Unique Loom at Market Square. EJ Victor and Red Egg are a short jaunt a way.
I WANT IN. HOW DO I APPLY:
To apply to be among the fifteen VIP tour members, hop on the AID website now. Together with HPxD, AID will select a diverse cadre of design talent from AID's ranks.
Participating designers will be asked to sign a standard photography release form.
WHAT IF I'M NOT AMONG THE VIP GROUP OF 15?
The Ron Royals head shot session is limited to fifteen. Alas, there are only so many hours in a day!
But wait for the good news: ALL Alliance of Interior Design members are invited to participate in the daylong HPxD Field Trip, including special showroom access and an open invitation to the afternoon Mixer. Register now to join the excursion!
FAQs:
Must I mask? Right on. In compliance with Guilford County mandates (and good sense), masking is required in all closed spaces, including group transportation and showrooms.
How much does the event cost? Nada. This is an HPxD sponsored event.
What if I'm not an AID Member? Two options. First, all credentialed interior design pros are invited to this weekly HPxD opening event. Secondly, AID welcomes new members. Join now.