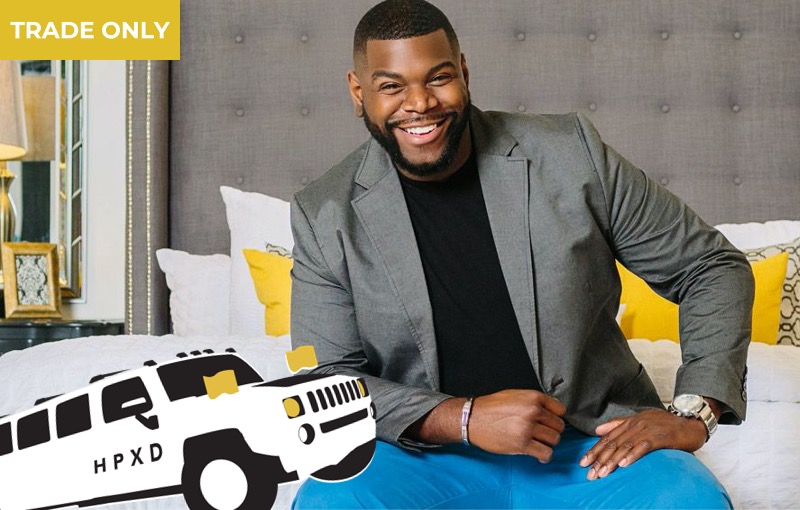 HPxD Hummer Tour | Oct. 16
CATCH THE MARKET HUMMMM…
A cool dozen design pros will join designer Don Ricardo Massenburg on a specially curated daylong High Point showroom tour in a sprawling s-t-r-e-t-c-h Hummer. The tour is free of charge, and includes breakfast, lunch, after-party, generous swag, bragging rights, social media ops and fun. Complete the simple application and your name will be in the Hummer hopper. We can't wait to hear from you. This might be your ticket to ride with a diverse lineup of design talent selected via an open lottery.
WHO'S THE TOUR FOR?
All professional designers with a sense of adventure, a passion for interiors and a Fall 2021 Market pass.
WHO'S IN CHARGE?
The HPxD Hummer entourage will be led by Don Ricardo Massenburg, founder of Design InKredible. He's a teacher and explorer at heart with passion for interiors, the arts, and early childhood education. As a designer, he is recognized for his bold use of color, pattern, and lush textiles, as well as leadership in the industry. As an education specialist, he assesses how the environment impacts learning. No matter what hat he wears, his end goal is elevating spaces and the quality of life. 
WHERE ARE WE GOING?
The Hummer Tour showroom hot list is in development now, curated by Don Ricardo. Fasten seatbelts and prepare for a buzzy day in some of High Point's most interesting showrooms. We'll pop in on names you know and uncover new finds. At every stop, you'll enjoy rock-star status, befitting your ride, your host and your fashionable design compatriots.
Reminder: Masking is required for the safety of all, in vehicle and in showroom!