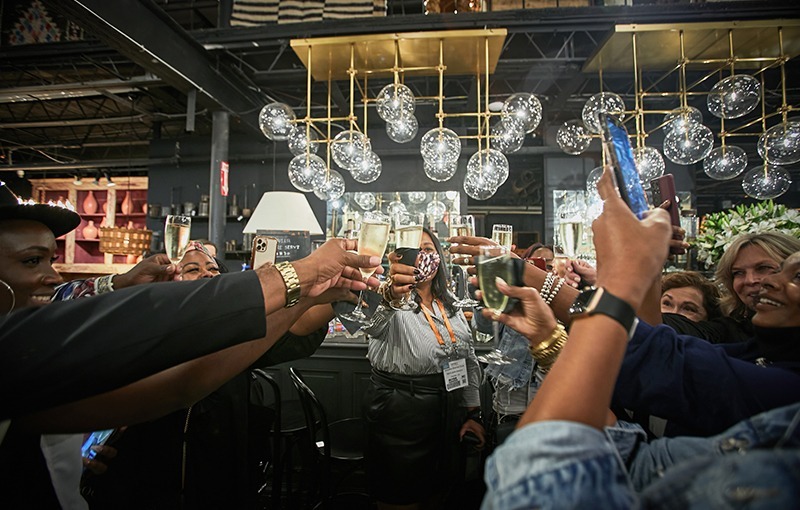 High Point x Design was born around a weathered teak table in March of 2020 when a group of friends, neighbors and industry pros started Saturday morning meet-ups. Our shared goal – then and now – is reimagining High Point as a year-round hub of design and creativity.
Today, HPxD is a cadre of about fifty branded showrooms with one fab (and occasionally winning) kickball team and two shopping pathways. Some HPxD members are open to the trade only. Other flagship showrooms welcome trade partners, as well as fans of designs and the citizenry of High Point. Hours vary too. Many HPxD members are open daily. All are open by appointment and during special events.
The company we keep
While varying wildly on matters of style and expression, HPxD flagships are design-oriented and fashion-forward, each with a distinctive personality. For many, High Point is home or a significant operational home base. Key flagship guidelines follow. Kindred spirits are encouraged to email now for a complete Flight Manual.
Creators welcome
Members must be brands that design and source/manufacture proprietary and original home décor items.
The price is right
Membership requires absolute commitment to honoring trade pricing, available exclusively to your approved design and retail accounts only.
Tag, you're it
To uphold trade pricing integrity, HPxD flagships open to all must tag at retail price. Non-trade shoppers may enjoy a modest in-store incentive at the brand's discretion.
It's showtime
Members are committed to offering shoppers an exceptional experience: products, people, service, and showroom vibe designed to inspire.
Stronger together
HPxD membership is all-in, fully participating in group marketing and reciprocating with inclusion in your messaging.
Finances
Annual membership dues are required to support the growth of our platform and communications program. Plus, contributions welcome!
Design in the time of COVID
The time is right to open High Point. Broader showroom access means shopping on your schedule, not ours. For Covid safety best practices, HPxD defers to science, following all CDC guidelines, including masking, social distancing, capacity restrictions and diligent hygiene procedures. The well-being of customers, associates and community is the top priority.
We're all about options. Like you, HPxD flagships have become Zoom experts over the last few months. We welcome digital knocks on our doors, including social media touchpoints. But nothing replaces a showroom visit for an unfiltered brand experience. HPxD showrooms are ready for you … by-appointment and during events, as we progress safely to daily opening hours.